The HAPSMobile Sunglider unmanned air vehicle (UAV) reached an altitude of more than 60,000ft during a 20h demonstration flight on 21 and 22 September.
The solar-powered high-altitude pseudo-satellite (HAPS) also conducted a long-distance broadband communication test, the company says on 8 October. Sunglider is a rebranding from the aircraft's original name, Hawk30.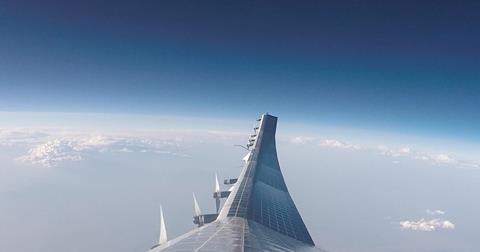 HAPSMobile is a joint venture between majority owner SoftBank of Japan, a conglomerate with roots in the telecommunications industry, and minority owner Aerovironment, which is building and flight testing the flying wing.
The flight test began at 05:16 US Mountain time on 21 September and ended at 01:32 the following day.
"The Aerovironment team piloted Sunglider to a stratospheric altitude of 62,500ft above Spaceport America in New Mexico," the company says. "Sunglider successfully achieved major test objectives relating to propulsion, power systems, flight control, navigation and data link integrity, as well as structural performance during the most turbulent phases of the flight as it entered and exited the jet stream."
The company did not disclose details about its major test objectives for the flying-wing UAV.
This was the fifth flight demonstration of the aircraft since its first take-off in September 2019. The company declined to says when the next flight would take place.
The recent demonstration also included a wireless broadband communications test using Long-Term Evolution (LTE) equipment developed by Alphabet's Loon and HAPSMobile.
The wireless LTE transmissions connected people using computers in Tokyo to others in New Mexico and the Silicon Valley area. "Employing standard LTE smartphones, a team at Spaceport America conducted multiple video calls via the Sunglider's payload while the aircraft circled for more than 5h in the stratosphere," HAPSMobile says.
The Sunglider's broadband transmission footprint on earth is 124mi (200km) in diameter. From above New Mexico, the UAV relayed the video footage to a ground station and then over the internet to Silicone Valley and Tokyo.
The Sunglider is designed to fly at about 65,000ft, which is defined as the stratosphere. The flying wing has a span of 80m (262ft) that is covered with solar panels on its topside. The solar panels continuously recharge the aircraft's high-energy-density lithium ion batteries, which power 10 electric motors driving propellers.
HAPSMobile says the aircraft is designed to stay aloft for several months – endurance that could enable the UAV to act as a telecommunications pseudo-satellite.
Update: Article changed on 8 October to reflect comments from Aerovironment