While the rest of the world shuts down, aerospace defence manufacturers are expected by the US Department of Defense (DoD) to keep turning out aircraft.
That's requiring companies across the USA to comply with overlapping and daily changing regulations from federal, state, county and municipal governments.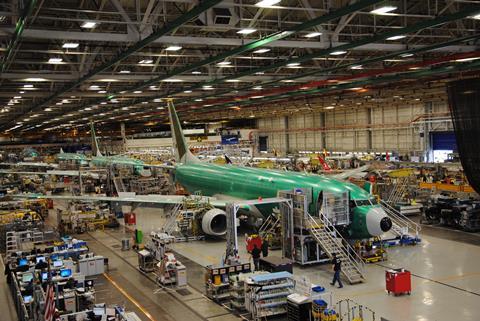 To keep factories humming the Pentagon issued a memo on 20 March that declared the Defense Industrial Base a "Critical Infrastructure Sector", making the industry exempt from quarantine enforcement.
To avoid spreading coronavirus while maintaining operations, aerospace manufactures say they are trying a myriad of methods, including hyper-vigilant cleaning, forgoing group meetings, and distributing face masks. Most aerospace manufacturers say they are closely following the recommendations of the US Centers for Disease Control (CDC). The Pentagon says all manufacturers should follow the CDC guidelines while staying open.
For its part, Boeing is "increasing and enhancing cleaning of high-touch areas such as cafeterias, shuttle vehicles, restrooms, light switches, door handles, railings and elevators," the company says. It is also "minimizing the number and frequency of face-to-face meetings with larger groups in areas with active coronavirus transmission."
On 23 March, the company suspended production of aircraft at its Puget Sound Washington facilities after an employee died of the coronavirus. In addition to commercial airliner production, those facilities make the KC-46A Pegasus in-flight refuelling tanker and P-8 Poseidon maritime patrol aircraft.
Some non-factory work is continuing, however, says Boeing on 23 March.
"Certain non-production work for all commercial derivative aircraft programmes, including for the KC-46 remote vision system enhancements, will continue being done by employees working remotely," it says.
Other manufacturing facilities are unaffected, the company says. Those include the company's CH-47 heavy lift helicopter and Bell Boeing V-22 tiltrotor facility in Philadelphia, Pennsylvania; its AH-64 attack helicopter and AH-6 light attack helicopter facility in Mesa Arizona; and its F/A-18E/F and F-15 production facility in St. Louis, Missouri.
Bell says its output has not been impacted either. The company makes the UH-1 utility helicopter, the AH-1 attack helicopter and Bell Boeing V-22 tiltrotor in Fort Worth, Texas.
The company is trying to use social distancing to prevent the spread of coronavirus at manufacturing sites where in-person work is required.
"Bell has offered flexible working arrangements including working remote and staggered work schedules to employees who are able to do so," says the firm. "These measures limit exposure to those performing essential manufacturing, design and support work onsite."
For AeroVironment of Simi Valley, California, a small unmanned air vehicle manufacturer, the company's production is continuing, while it leans on prior investments in remote working technology.
"We are fortunate to have implemented telepresence capabilities and equipped the majority of our workforce with laptops or tablets to enable remote operation, well before this pandemic struck," says Steve Gitlin, AeroVironment's vice-president of investor relations. "In fact, last week we held our first virtual all-hands town hall meeting, with more than 700 of our 800-plus employees participating from Southern California, Huntsville, Alabama, Lawrence, Kansas, New England and the Washington, DC area."
Other manufacturers, such as Northrop Grumman, Lockheed Martin and Sikorsky say they have similarly increased cleaning, implemented social distancing and encouraged working from home when possible. Raytheon declined to comment.
Ellen Lord, the under secretary of defense for acquisition and sustainment, says that she is coordinating with state governors to make sure defence manufactures aren't caught up in quarantine enforcement efforts.
"I put out my memos so that we didn't have local law enforcement stopping people on the way to work," she says on 25 March. "We have had incredible collaboration from governors. I spoke with Governor Tom Wolf from Pennsylvania last Friday to ensure that some Boeing and BAE facilities could keep up and running in the state of Pennsylvania."
A similar conversation was held with California governor Gavin Newsom's chief of staff, she adds.
Lord says the DoD is also tracking outbreaks of coronavirus near defence companies.
"We are generating what we call a heat map. We show the number of coronavirus positive tests, as well as state and local shelter-in-place rules and guidelines," she says. "All of this information can help us with predictive solutions and planning when overlaid with the location of our industry partners."