Boeing is researching adding a laser-range finder to the KC-46A Pegasus' problem-plagued refuelling boom camera system.
The laser-range-finder retrofit onto the boom cameras, known as the remote vision system (RVS), would give operators additional information about the true distance between the end of the KC-46A's boom and a receiving aircraft's receptacle during in-flight refuelling, says Will Roper, assistant secretary of the US Air Force (USAF) for acquisition, technology and logistics at the Reagan National Defense Forum on 7 December.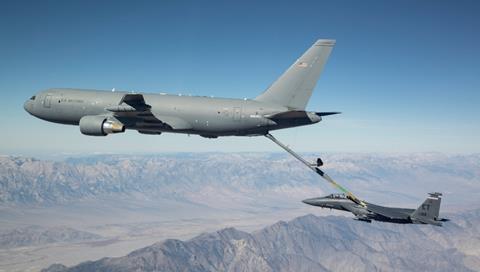 "I am very pleased that Boeing has leaped forward on that kind of research," says Roper. "They are looking at where they can install the laser-range finder, how they can run the wiring and cabling through it."
The addition of a laser-range finder is some ways off, however.
"We've got another turn before that design is tightened up to where we can proceed with it," says Roper. "It is that kind of thinking that is going to get the RVS problem solved – thinking outside the original design, which did not include that laser-range finder."
The KC-46A in-flight refuelling tanker's original RVS cameras had two problems: a distorted three-dimensional video feed which makes it difficult for operators to perceive distances; and a problem automatically adjusting to changing lighting conditions, which causes the screen to washout in certain scenarios.
"There is… a rubber sheet effect where some parts get stretched, some parts get compressed, so that the reality that the operator sees on the screen is not the same as the one outside the plane," says Roper.
Boeing is trying to straighten out the warping problem using algorithms that remap the video feed's pixels to the correct locations, he says.
The company is also working with scientists at the Air Force Research Laboratory's 711th Human Performance Wing to model potential fixes to the RVS, says Roper.
"The remote visual system — I am going to worry about it each day until we have a validated design," he says. "One thing I am very happy about, we've got some of the best visual experts at the Air Force Research Lab and they are creating a model, a simulator of the RVS, [that] we can work through design iterations with Boeing, ahead of them putting engineering investment time on them."