Boeing is promoting its F-15EX combat aircraft to Poland, with the new model to potentially be available via a Foreign Military Sales programme deal with the US Department of Defense.
"The F-15EX is the world's most advanced fighter… and is the right fit to strengthen Poland's security needs," says Rob Novotny, director, business development for Boeing's F-15 programme.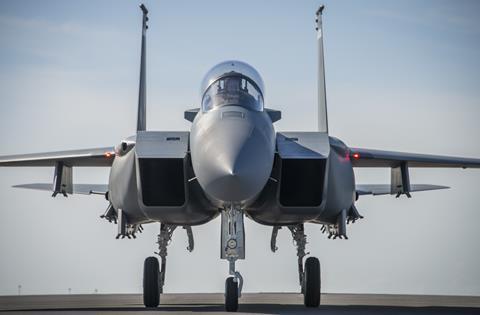 "Through enhanced interoperability with US and NATO forces, capacity for technology growth and a 20,000-hour-plus economic operational airframe life, Poland can expect the F-15EX to win in existing and future threat environments," he adds.
Speaking at the MSPO defence show in Kielce on 7 September, Novotny declined to provide details about the likely price and delivery schedule for the aircraft.
"There are no negotiations and no contract talks, only some conversations with the Polish air force," Novotny says of the potential interest from Warsaw.
It is believed that Poland could consider acquiring enough F-15EXs to equip two or three squadrons, meaning 32 or 48 aircraft.
According to Polish air force inspector Major General Ireneusz Nowak, the service "should have 160 combat aircraft" – equivalent to 10 tactical squadrons.
A current Lockheed Martin F-16 operator, Poland is in the process of phasing out its Soviet-era RAC MiG-29 fighters and Sukhoi Su-22 ground-attack aircraft. It has so far ordered 48 Korea Aerospace Industries FA-50s is planning to acquire 32 Lockheed Martin F-35As.
Asked about a potential configuration for Warsaw, Novotny says: "There is room for 'Polonisation', for example the electronic warfare system and radios, or other systems." However, he cautions that customisation can carry "some additional engineering costs".
Novotny says there is "a lot of interest" in the F-15EX in central and eastern Europe, but declines to name other potential future operators.
Boeing has so far delivered two F-15EX Eagle IIs to the US Air Force to support test and evaluation work ahead of the type's introduction to frontline use.
The company says its St. Louis facility in Missouri is capable of producing 12 of the type per year, but that this will rise to 24, with an option to increase further to 36 to satisfy export deals. Indonesia last month signed a memorandum of understanding linked to a planned 24-unit purchase of the type.
Speaking earlier this year, Boeing officials indicated that it would take 36 months to deliver an aircraft after receiving a contract.