A Chinese Shenyang J-11 fighter conducted a dangerous intercept of a US Air Force Boeing B-52 bomber at night in international airspace over the South China Sea.
The incident, filmed by the B-52's targeting pod, shows the J-11 approaching on the rear lefthand side of the US bomber, with its afterburners lit. Pacific Air Forces (PACAF) says the Chinese jet came within 3m (10ft) of the bomber.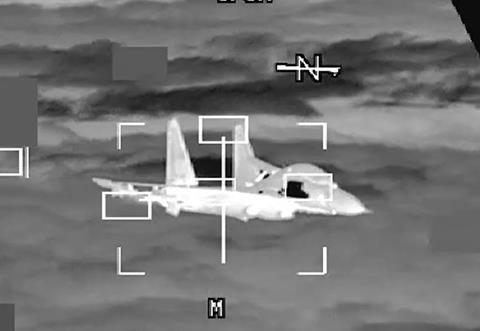 "During the nighttime intercept, the PRC pilot flew in an unsafe and unprofessional manner, demonstrated poor airmanship by closing with uncontrolled excessive speed, flying below, in front of, and within 10 feet of the B-52, putting both aircraft in danger of collision," says PACAF.
PACAF expresses concern that the pilot was unaware of how close the incident came to causing a collision, stating that visibility was limited, and that the intercept was in contravention to international rules and norms.
"The PRC intercept was conducted at night, with limited visibility, in a manner contrary to international air safety rules and norms," adds PACAF. "Military aircraft, when intentionally approaching another, shall operate with professional airmanship and give due regard for the safety of other aircraft."
A collision between Chinese and allied aircraft would be a major international incident, potentially leading to conflict in the region.
#USINDOPACOM Statement on #PRC Unprofessional Intercept: "A People's Republic of China J-11 pilot executed an unsafe intercept of a U.S. Air Force B-52 aircraft which was lawfully conducting routine operations over the South China Sea..."

Read more⬇️https://t.co/UnCmnneAr7 pic.twitter.com/6k79Koah3V

— U.S. Indo-Pacific Command (@INDOPACOM) October 26, 2023
The unprofessional intercept shortly follows the Pentagon's recent sharing of details about a "sharp increase" in the number of aggressive intercepts of US and allied military aircraft by Chinese fighters.
Beijing illegally claims most of the South China Sea and has built military bases on manmade islands – after giving earlier assurances that it would not do so. In addition to territorial disputes with Southeast Asian neighbours, China continues to operate daily sorties to probe the defences of Taiwan.
"The US will continue to fly, sail, and operate – safely and responsibly – wherever international laws allow," adds PACAF.
"The US Indo-Pacific Command Joint Force remains dedicated to a free and open Indo-Pacific region, and we expect all countries in the Indo-Pacific to operate in international airspace safely and in accordance with international law."