Colombian president Ivan Duque Marquez has escaped injury after his air force helicopter was damaged by gunfire, as it carried out an approach to the city of Cucuta near the Venezuelan border.
The Sikorsky UH-60 (FAC 0007) sustained multiple bullet strikes to its fuselage and rotor during the 25 June incident.
Marquez says the presidential aircraft had been operating from nearby Sardinata to Cucuta when it was "the victim of an attack".
He had been travelling in the helicopter with the country's defence minister, interior minister, and the governor of North Santander.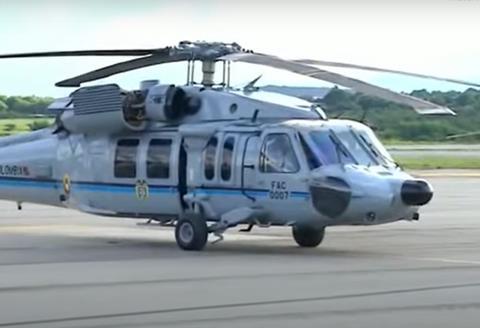 Aerial security devices and the aircraft's capabilities "prevented something lethal from occurring", says Marquez.
"It is a cowardly attack", he adds. "We reiterate that, as a government, we are not going to falter for a single minute, a single day, in the fight against drug trafficking, against terrorism, and against organised crime groups that operate in the country."
Marquez says he has given "very clear instructions" to security personnel to pursue the individuals who shot at the helicopter.
Colombia's government selected the Leonardo AW139 helicopter for the country's replacement presidential transport earlier this year.
Leonardo stated that the twin-engined helicopter, operated by the Colombian air force, would be configured with an eight-seat VVIP interior and feature an integrated "self-defence suite".