Confusion has emerged as to whether the Ukrainian military Antonov An-26 which crashed near Kharkiv suffered an engine failure before the accident.
Ukraine's defence ministry indicates there was a problem with an engine sensor before the aircraft came down in darkness, at about 20:45 on 25 September.
Defence minister Andriy Taran says a preliminary assessment suggests a sensor problem occurred in the left-hand Ivchenko-Progress AI-24 engine, but not a failure of the engine itself.
Taran says the aircraft appears to have struck the ground with its wing during the accident sequence, without elaborating.
He spoke to reporters as he visited the crash site near the Chuhuiv air base, south-east of Kharkiv, on 26 September.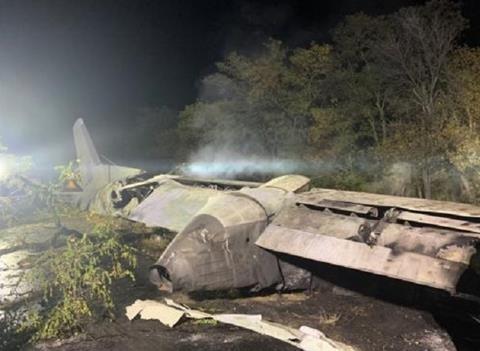 The An-26Sh involved was 43 years old, says Taran, having been manufactured in 1977.
But he says the aircraft was authorised to operate for another three years, and that it had carried out several take-offs and landings the previous day.
"Everything went according to plan," he says. "The aircraft was performing training flights to train cadets."
An instructor was commanding the aircraft and cadets took turns to sit in the right-hand seat, in order to obtain skills in piloting and controlling the An-26, he adds.
Taran has not confirmed who was flying the aircraft when it came down during an approach to Chuhuiv, or other circumstances of the accident.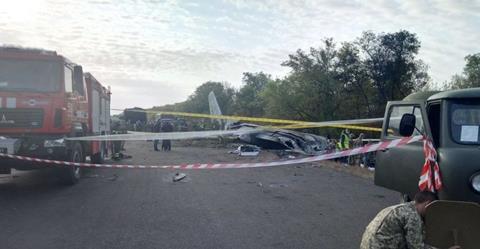 "We will find out the reasons," he says. "Final conclusions will be made after decoding the flight recorders."
Ukraine's state security service, however, claims the commander of the aircraft reported a failure of the left engine at 20:38, and sought clearance to land at 20:40, about 5min before the accident.
It says the training flights started at 18:50 and were supposed to continue until 22:50, adding that the aircraft was controlled by the commander, and "not directly" by the cadets.
The defence ministry says the recorders of the aircraft have been located.
Investigators have established an operational headquarters at the crash site. Twenty-seven people, including 20 cadets, had been on board. While two of the An-26's occupants survived the initial accident, one succumbed to serious injuries.
Ukraine's prosecutor general has opened a routine criminal case to probe any possible violation of flight rules which might have led to the crash.