Denmark's defence ministry is to carry out a two-year trial with single-engined electric light trainer aircraft, as part of an environmental action plan.
The two-seat Pipistrel Velis Electro aircraft will be acquired via a lease by French company Green Aerolease, and supplement the armed forces' Saab T-17s.
They will be delivered in September this year.
"Everyone has a responsibility to contribute to [addressing] climate change," says defence minister Trine Bramsen.
"The electric aircraft will be used for training among other things – the experience will be important for future equipment acquisitions in the defence field."
She adds that the ministry will test the potential of the aircraft and obtain experience with battery technology and charging.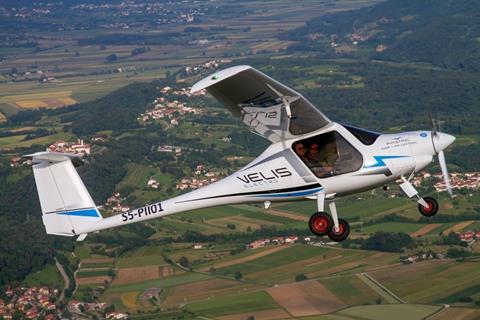 Pipistrel says the aircraft will be used by the flying school at Karup, to be initially evaluated by experienced personnel before being introduced to the training programme for new pilots.
"We will test whether some of the flights and tasks we have in the air force can be replaced by electric aircraft," says Lieutenant Colonel Casper Borge Nielsen of the ministry's materiel and procurement agency.
With over 30,000 employees, the ministry is one of Denmark's largest employers. It puts its annual energy consumption at 339 GWh – the equivalent of a large Danish town – and says this means it must "take the lead" in shifting to a more sustainable operation.