Raytheon dropped the sale of an offensive weapon system to an unnamed Middle Eastern country due to concerns that the new President Joseph Biden administration would not grant it a direct commercial sales export license.
The company disclosed the change in its 2020 fourth quarter earnings call on 26 January.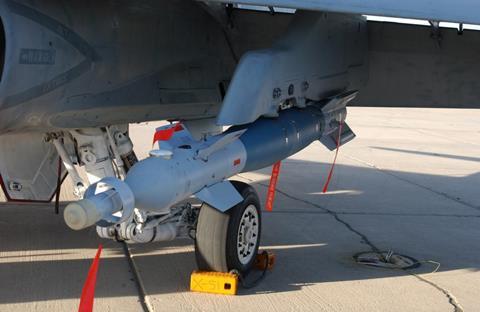 "[Raytheon Missiles & Defense's] reported sales and operating profit were adversely impacted by an adjustment related to direct commercial sales contracts for munitions with a Middle East customer, which are subject to regulatory approval," says Neil Mitchill, corporate vice-president and financial planning, analysis and investor relations with Raytheon.
"Furthermore [Raytheon Missiles & Defense's] reported operating profit included an unfavorable impact of approximately $516 million related to these contracts for an impairment of certain inventory and associated supplier-related obligations," he says.
Raytheon did not disclose the type of munition or the potential customer. However, the company's sale of weapons to Saudi Arabia, many of which have been used in the Yemen civil war, have been harshly criticised by human rights activists and Democratic politicians for the munitions' role in killing civilians. The manufacturer reportedly had a large sale of Paveway precision-guided bombs in the works.
The company says the sale could still happen, perhaps via the US government-run Foreign Military Sales process. However, in order to conservatively reflect the lower likelihood of approval Raytheon decided to update its accounting.
Raytheon believes defensive weapons will likely have an easier time being sold to foreign militaries under the Biden administration.
"If you think about Patriot and some of the other defensive systems, we have no issues with getting licenses. But offensive weapons [are] a little bit more difficult," says Greg Hayes, Raytheon's chief executive. "And so, as we go forward, what we're going to do is we'll work with the [Department of Defense]. We'll try and do these through [Foreign Military Sales] as opposed through direct foreign sales to make sure we've got alignment with [the Department of Defense] and the administration before we book any of these."
There are not any other large contracts likely to be withdrawn, he says.
When asked by a stock analyst if the cancellation is a sign of fewer future weapons sales to Middle Eastern countries Hayes was unequivocal.
"No, no, no," he says. "Look, peace is not going to break out in the Middle East anytime soon."