Hindustan Aeronautics (HAL) is working to improve the fleet-wide serviceability of Indian air force (IAF) BAE Hawk 132 advanced jet trainers.
The jets' Rolls-Royce/Safran Adour Mk 871 turbofans suffer from turbine blade lifespan issues, according to HAL.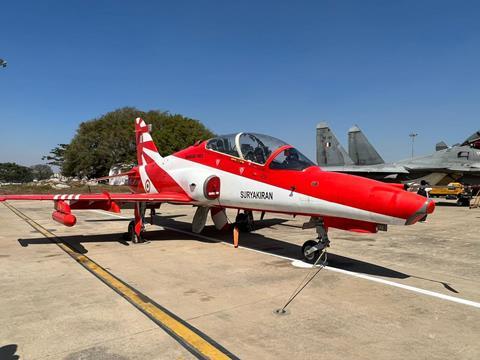 "We are having some problems with the turbine blades, which have been short-lifed and are in discussion with Rolls-Royce to provide a solution," says F.P. Jayadeva, a director at HAL.
He says R-R is working on the issue and has provided an interim solution, which is being discussed with the air force.
"This is not a problem restricted to India alone, and we are hopeful of getting a solution shortly," adds Jayadeva.
FlightGlobal has asked R-R for comment.
In an August 2022 Parliamentary Standing Committee report on defence, the IAF said it would reduce a follow-on Hawk 132 buy from 29 jets to 20 jets, due to cost and engine life issues.
Jayadeva says, however, that HAL is ready to restart production within two years of receiving a contract. HAL has revived production lines for license production aircraft before, most notably the line for Sepecat Jaguar fighter in late 1990s and the line for the Cheetah (SA-315B Lama) helicopter.
HAL overhauls Hawk 132s in Bengaluru at a rate of 10-12 aircraft annually. The type and its engines were produced under license in Bengaluru as well.
The air force is thought to have around 98 Hawk 132s in service, having ordered 106 aircraft in two tranches of 66 aircraft in 2004 and another 40 in 2010. The 2010 order included an additional 17 aircraft for the Indian navy.
The IAF's Suryakiran display team also operates the type.