US Air Force staffers working from home will soon have one of the military's newest data-transfer technologies at their fingertips.
In an effort to continue critical technology development during the coronavirus pandemic, the service intends to equip some telecommuters with DeviceOne, a component of the USAF's Advanced Battle Management System.
About 93% of the USAF's technology development and acquisition staff is working remotely as the service tries to adapt to social distancing restrictions intended to slow the spread of the coronavirus, says Will Roper, assistant secretary of the USAF for acquisition technology and logistics, on 16 April.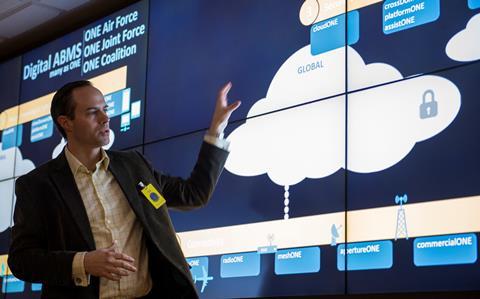 DeviceOne provides virtual desktop access to classified Department of Defense networks. It is part of the USAF's overarching Advanced Battle Management System, which aims to facilitate data sharing between aircraft and other military hardware, including satellites, ships, ground vehicles, soldiers, and command and control stations
The USAF had intended to demonstrate sharing information between US soldiers and US marines via its Advanced Battle Management System in an exercise on 8 April, but due to coronavirus restrictions that exercise was delayed.
Instead, the service is looking to distribute DeviceOne units to its various programmes to help them continue secret technology development work at home.
"We've ordered 50 and have plans to order 400. And, we would like to order 4,000. [But,] we need funding to do that and there are a lot of things that need funding," says Roper.
DeviceOne units are certified by the National Security Agency for processing data classified as secret. However, Roper says the hardware is certified to handle data classified at a higher level than secret, implying the systems could handle top-secret information.
DeviceOne-enabled laptops would act as a portal to the USAF's cloud. Information would be stored and processed on the cloud, no data would be left behind on local laptops, says Roper.
The service plans to start handing out DeviceOnes to select personnel.
"Key leaders will clearly get one of these. And then for important teams, like programme teams, we would try to have a modicum of the DeviceOnes within that team so that they can have a team person responsible for getting classified correspondence for that team while they're working remotely."
The USAF is trying to reduce reliance on computers located on US government premises.
"I think that will help keep a lot of people from having to go into the office just simply to turn on their secret level SIPRNet machine, check their email, log out and go home," says Roper.
A Secret Internet Protocol Router Network, or SIPRNet, machine is a secure computer used to access classified material on the Defense Department's network.
With DeviceOne units yet deployed, the service has used technology like video chat to push forward some programmes, including the VC-25B, the aircraft commonly known by its "Air Force One" call sign when the president of the USA flies aboard. The executive transport recently completed most of its critical design review virtually and only has a few outstanding issues to be resolved, says Roper.