India's air force is eyeing the procurement of additional Hindustan Aeronautics LCA Tejas Mk-1A fighters, Light Combat Helicopters (LCH) and other weapon systems, valued at approximately Rs1.7 trillion ($21 billion).
The acquisitions will cost Rs41 billion in the 2024 financial year, which starts on 1 April 2024, according to Air Chief Marshal VR Chaudhari, speaking at the air force's recent press day in New Delhi.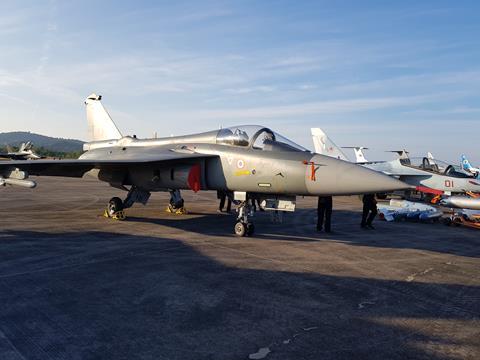 Importantly for India's defence aerospace sector, Chaudhari stated that beyond its requirement for air-to-air refuellers and multi-role combat aircraft imported from overseas, the remaining acquisitions will be only for indigenous platforms.
In September, Chaudhari announced that the air force is pursuing the procurement of 97 additional Tejas Mk-1As. Chaudhari said the new aircraft will cater for the drawdown in the air force's Mikoyan MiG-21 fleet, with only two MiG-21 Bison squadrons now remaining in service; the Cold War-era type will be phased out from 2024.
The deal for 97 Tejas Mk-1As has an estimated value of Rs1.15 trillion and adds to a February 2021 contract for 83 Tejas Mk-1As worth approximately Rs480 billion. HAL will start deliveries for the 2021 order from February 2024 and expects to complete them by 2027-2028.
HAL has also handed the first of eight Tejas Mk-1 two-seat trainers to the air force, with the remaining seven planned for delivery by March 2024. These aircraft belong to two air force orders for 20 Tejas Mk-1s each (16 single-seat and 4 twin-seat) placed in March 2006 and December 2010. HAL has completed delivery of the single-seat Tejas Mk-1.
Chaudhari adds that the air force is proceeding with a long pending upgrade for its Sukhoi Su-30MKI fleet, with 84 aircraft to be enhanced for an estimated cost of Rs600 billion. In September, India's Defence Acquisition Council (DAC), which is headed by defence minister Rajnath Singh, approved the manufacture of 12 new Su-30MKIs by HAL.
On the attack helicopter front, the air force is the lead service for the overall procurement of 156 additional LCHs. It will receive 66 examples valued at approximately Rs450 billion, with the army to receive the remaining 90. The air force already operates 10 LCHs in the limited series production configuration, and the army five.
The air force is also pursuing a follow-on programme to procure six additional Embraer ERJ-145-based airborne early warning and control (AEW&C) platforms. It presently operates two ERJ-145 AEW&C aircraft, developed by the Defence Research & Development Organisation (DRDO), and known locally as 'Netra'. A third aircraft remains with the DRDO.
In addition to more ERJ-145s, the air force also has an ongoing programme with the DRDO along with Airbus Defence & Space to convert six ex-Air India A321s into AEW&C platforms. The Rs110 billion AEW&C Mk II programme received approval from India's Cabinet Committee on Security in September 2021.
Finally, an intelligence, surveillance, target acquisition and reconnaissance platform is being pursued. The air force hopes to acquire three aircraft at an estimated cost of Rs60 billion.