Korea Aerospace Industries (KAI) is seeing strong customer interest in a single-seat version of the FA-50 light combat aircraft.
A single-seat version of the type, which is based on the two-seat T-50 trainer, was mooted during the earliest days of the programme, but in recent years the idea of a single-seater has developed significant traction, according to Sangshin Park, KAI's business development director for Asia.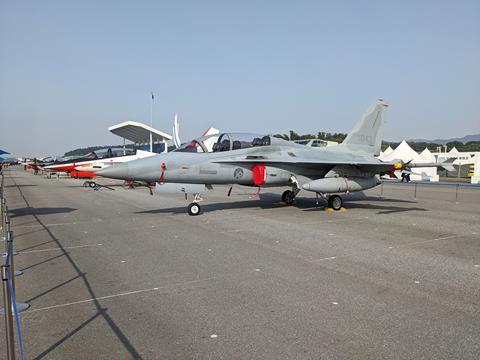 "That concept was not realised, but we are getting a lot of feedback from customers and we're seriously thinking about this," he says.
Park spoke with FlightGlobal at the recent Seoul ADEX defence show.
While a single-seat version is not a done deal, Park feels that it is very likely, possibly appearing within five years. The first user of a single-seater is also likely to be a foreign customer.
Park says that while customers are happy with the FA-50, they have expressed interest in improving range. The removal of the back seat would make space for a fuel tank. Moreover, the elimination of back-seat avionics and the ejection seat would help reduce costs, while potentially also increasing weapons payload.
To keep development costs down, the single-seat FA-50 would retain the aircraft's existing canopy and outer mold line.
Other efforts to boost the FA-50's range include the development of a larger external fuel tank and the addition of an air-to-air refuelling capability.
The FA-50's sensor capabilities are also improving with the addition of Raytheon's PhantomStrike active electronically scanned array (AESA) radar. The first FA-50 customer to receive PhantomStrike will be Poland, which has started taking delivery of 12 FA-50GF ('gap filler') jets, and will from 2025 receive 36 aircraft in the advanced FA-50PL standard.
The PL-model fighter will also be capable of air-to-air refuelling, with flight trials of the capability having begun earlier this year. Park says that Malaysia, which has orders for 18 FA-50s, will essentially receive aircraft in the Polish PL configuration. Given that Malaysia's overall requirement is for 36 aircraft, he is confident that Kuala Lumpur will order 18 more FA-50s.
The Philippines, which operates 12 FA-50s, is also interested in an AESA capability.
Park adds that the Republic of Korea Air Force (ROKAF), the FA-50's biggest operator, has yet to express interest in upgrading its fleet with AESA radars. The ROKAF's adoption of AESA for its FA-50s, however, is critical for spreading out the costs involved in integrating the new radar.
Customers have also expressed interest in giving the FA-50 a beyond-visual-range air-to-air missile capability. This is likely to be incorporated in the form of the Raytheon AIM-120 Advanced Medium Range Air-To-Air Missile.
Cirium fleets data indicates that KAI has delivered 211 T-50-family aircraft, and has orders for 90 examples.
The FA-50 is also competing for an Egyptian requirement for 48 advanced jet trainers. Its rivals for the deal are the Hongdu L-15 from China, and the Leonardo M-346. KAI has a T-50 marketing agreement with Lockheed Martin for certain countries, specifically addressing trainer requirements in Australia, Canada, and the USA.