Korea Aerospace Industries (KAI) has released the first images of an FA-50 light combat aircraft sporting the Polish air force's grey camouflage livery.
Pictured at the company's Sacheon facility in South Korea, the aircraft has the service number 5002 and the customer's distinctive white and red checkerboard markings. Additionally – and for the first time in Polish air force history – the jet has a 'false canopy' painted on the underside of its fuselage.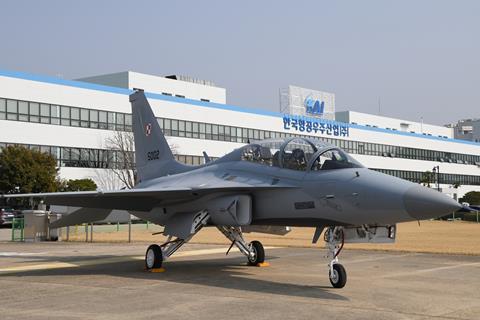 Warsaw late last year ordered its first batch of 12 FA-50s for $705 million, with its aircraft to be in a configuration similar to that used by the Republic of Korea Air Force. The deal also includes training and logistics packages, plus technical support.
Poland's initial FA-50s will be delivered to its Minsk Mazowiecki air base from the third quarter of this year, with a full mission simulator to be ready for use in 2024. Infrastructure improvements currently being made at the base include constructing new hangars and associated buildings.
Since January, a first group of four Polish air force pilots – three with a background on the RAC MiG-29 and the other on the PZL-130 trainer – has been receiving instruction. Following a one-month ground school phase completed at a KAI facility, they are now at the Republic of Korea Air Force's 1st Fighter Wing at Gwangju, participating in 23-week programme including computer-based training and flights in the T-50 trainer. They are expected to complete their training before 21 July.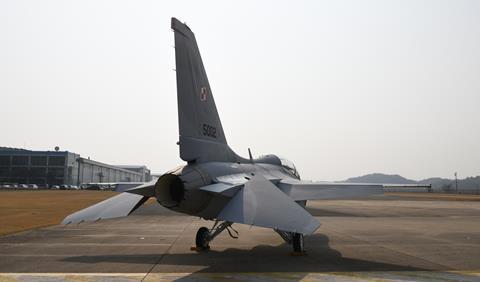 A next intake of four Polish personnel, including the service's first female FA-50 pilot, will arrive in South Korea in early April, and are due to return to Europe in November. South Korea also is providing training for Polish air force technicians.
Further deliveries of 36 FA-50PL light combat aircraft are scheduled to run from 2025-2028, under a $2.3 billion acquisition.
Polish air force inspector Brigadier General Ireneusz Nowak says the PL-model's avionics configuration has been frozen, with the service waiting to purchase an active electronically scanned array radar, enabling use of the Raytheon AIM-120 AMRAAM advanced medium-range air-to-air missile.
The service also is considering a purchase of the South Korean-developed KGGB glide bomb. An adapted Mk82 round with a range of up to 38nm (70km), the GPS-guided weapon will provide an all-weather precision strike capability.