Lockheed Martin has finished constructing an "advanced manufacturing facility" at its Skunk Works headquarters in Palmdale, California – a site at which the company intends to manufacture unspecified products using new techniques.
Lockheed does not disclose what products it plans to build at the new plant, but the site's opening marks a return to manufacturing for Skunk Works, which years ago transitioned mostly to design work.
The 20,000sq m (215,000sq ft) facility reflects the firm's embrace of model-based digital engineering and other new manufacturing tools, including robotics, artificial intelligence, augmented reality and "Internet of Things" – a concept involving physical objects being networked together, the company said on 10 August.
The plant can accommodate more than 450 employees.

After winning a number of classified programmes from the US Department of Defense, Lockheed has been rapidly expanding its Palmdale campus in recent years. The firm calls the new building the "cornerstone" of more than $400 million in capital investments it has made at the Southern California site. The manufacturer says it has added 1,500 employees to its California workforce since 2018.
During its Cold War glory days, Skunk Works created and produced aircraft such as the U-2 Dragon Lady, SR-71 Blackbird and F-117 Nighthawk. But in recent years, Skunk Works moved away from production; instead, it has tended to design aircraft – the F-35 stealth fighter is an example – and then hand off production and sustainment work to Lockheed's aeronautics division.
Product details aside, Lockheed says the facility will employ model-based engineering methods. Such methods involve using software to establish single digital schematics that can be updated in real time and shared among Skunk Works staff (such as design, production and sustainment engineers) and contractors.
SEAMLESS DESIGN, X-59
Skunk Works is advancing model-based digital design through its development of NASA's X-59 Quiet Supersonic Technology (QueSST) aircraft. The X-59 is an in-development experimental supersonic jet that aims to suppress noise coming from a sonic boom. The aircraft is being built at Skunk Works nearby building in Palmdale.
Skunk Works will use X-59 "as a baseline to collect metrics and best practices to guide future transformation initiatives" – a project it calls Polaris, the company says.
The effort involves partnering with Spirit AeroSystems on an X-59 assembly demonstration project. The companies will collaborate on the X-59's design within Lockheed's Integrated Digital Environment design software. The plan involves "robotically assembling" X-59 components that will be separate from the actual X-59 airframe, says Lockheed.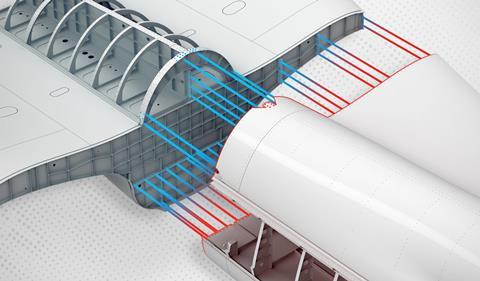 "The Polaris team and [Spirit AeroSystems] have the same access to design updates, task statuses and feedback," says Lockheed. "Polaris is taking collaboration with a major supplier beyond emails and meetings, paving the way for more-effective partnership."
Model-based engineering and "determinant assembly" – using part features like drilled holes to align components – are the future of defence manufacturing, says Duane Hawkins, senior vice-president of Spirit's defence and space division. The techniques ought to "revolutionise the speed at which new products can be brought to market" by reducing costly and time-consuming mistakes, he says.
Lockheed and Spirit say such processes have proven to cut assembly times by 70% and improve quality.