Lockheed Martin's board of directors has elected James Taiclet as its next president and chief executive, succeeding Marillyn Hewson.
He will start in those roles on 15 June, the company says on 16 March.
Taiclet has been a board member of Lockheed since 2018. He will continue to serve on the board.
Current CEO and president Marillyn Hewson is to become executive chairman of the board, effective June 15, pending her re-election to the board by stockholders at the company's upcoming annual meeting.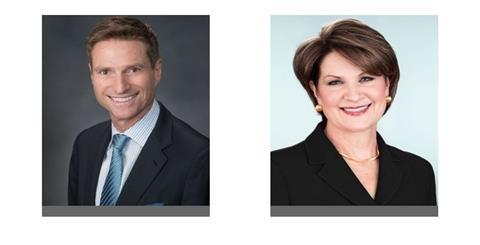 Taiclet has a mixed working history in telecommunications and aerospace.
He was chairman, president and CEO of cellphone broadcast tower company American Tower Corporation from 2004 to March 2020, when he resigned to take the top job with Lockheed.
Before joining American Tower in 2001, Taiclet was president of Honeywell Aerospace Services. Prior, he was vice-president of engine services at Pratt & Whitney.
Taiclet began his career as a US Air Force officer and pilot and served a tour of duty in the Gulf War. He graduated from the United States Air Force Academy with degrees in engineering and international relations.
Networking aircraft, ships, tanks and other military equipment is a top priority of the US Department of Defense. The Pentagon aims to use information sharing to quicken decision making in order to gain a speed advantage on adversaries such as China or Russia.
When Taiclet takes the reins of Lockheed in June, he will have to manage putting back on track the company's largest revenue-generating product line, the F-35 Lightning II stealth fighter. While the aircraft is prized by the USA and allied nations, it is also riddled with thousands of deficiencies and a $44,000 hourly operating cost that threatens to reduce the programme's total production number.
In response, Lockheed has promised to fix the litany of problems and reduce the aircraft's operating cost to $25,000 hourly by 2025. The company is also pitching the fighter as a sort of stealthy quarterback that can use massive computing power and connectivity to command loyal-wingman unmanned air vehicles (UAV).
That's where Taiclet's knowledge of telecommunications might come in. Should the size of the F-35 programme of record get cut, Lockheed may have to rely on continually upgrading the aircraft with new, connected capabilities to maintain revenue.
Lockheed maintains the F-35 programme of record is not threatened and that it would be ineffective for air forces to replace orders with loyal-wingman UAVs or alternative aircraft.