Lockheed Martin has signed an agreement with Verizon to develop 5G wireless communications technologies for the US Department of Defense.
The companies envision creating a "cohesive network spanning air, land, sea, space and cyber domains", Verizon said on 2 November. The firms also plan to form a joint research and development laboratory to develop prototypes and to demonstrate and test military 5G technologies.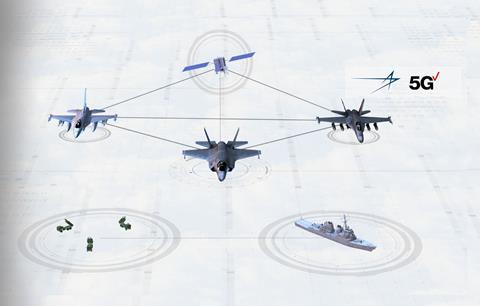 5G wireless equipment conforms to a fifth-generation industry standard for cellular broadband networks. The telecommunications equipment promises faster data transfer speeds and less latency than the previous 4G standard, enabling more commercial and civilian equipment – such as vehicles, sensors and industrial machinery – to be networked.
The US military believes 5G technology can be useful for its Joint All-Domain Command and Control, a concept that envisions connecting sensors from the US Air Force, US Army, US Marine Corps and US Navy into one network. The unified network would, in theory, allow the services to share battlefield information faster.
Because the civilian sector is already developing and deploying 5G equipment, the Pentagon plans to repurpose that technology.
"Leveraging commercial 5G technologies with military-grade enhancements will let customers field, scale and deploy this technology faster and in more operational environments," says Rod Makoske, Lockheed's chief engineer of engineering technology.
Lockheed and Verizon say they recently conducted a demonstration using a Verizon private 5G network installed at a Lockheed Space 5G test range in Colorado. Users were able to received Link-16 standard messages over the network, the companies say.
Link-16 is a wireless military communications system for short-range voice and data transmissions. It is incorporated into a wide range of US and NATO aircraft, ships, vehicles, missile defence systems and command and control centres.