The US Department of Defense (DoD) is preparing for geopolitical instability as the hospitals of poorer countries become swamped by victims of the coronavirus and as foes, such as China and Russia, try to take advantage of the situation.
The Pentagon is looking to maintain its readiness to fight, despite quarantine restrictions which have cancelled military exercises and interrupted the US defence industrial base. For its part, the US Air Force (USAF) is juggling the same geopolitical dangers, while providing an emergency air lift services for vital medical supplies and Americans stranded abroad.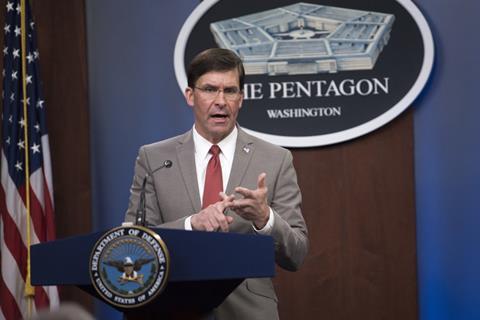 In particular, the DoD is worried about social unrest and predatory behavior, its leaders said in two press conferences on 24 March and 25 March.
"This is affecting different countries differently, and it depends on the level of rigor and robustness of the medical facilities' capacity inside each country," says General Mark Milley, chairman of the Joint Chiefs of Staff on 24 March. "In some cases, it could lead to social breakdowns. It could lead to political chaos in certain countries. We have to be attuned to that."
The same problems hurting the USA could be even greater in other countries, he says.
"It could be resource shortages. We see that with masks and gloves and ventilators and so on and so forth, hospital capacities and so on," says Milley. "These can have severe internal consequences to certain countries that go well beyond the immediate medical issue."
Secretary of defense Mark Esper says on 24 March that the DoD is cautiously watching how the coronavirus impacts foreign relations.
"With allies, it may be incumbent upon us to help them with our own supplies, our own doctors, our own assistance," he says. "With potential adversaries or adversaries, it may cause them to act out in different ways, and in ways that impact our security posture, our readiness. So we need to be very conscious and be on the lookout for that as this unfolds."
Some alleged bad behavior includes spreading false information and cybersecurity attacks.
For example, the US government has accused China of trying to rewrite history and redirect blame for the spread of coronavirus. The Chinese foreign ministry suggested on 12 March that "it might be [the] US Army who brought the epidemic to Wuhan".
Meanwhile, in March, prominent health organizations, including the World Health Organization and US Health and Human Services Department (HHS), have been hit with sophisticated cyber-attacks. In the case of the HHS, a foreign state is the suspected attacker, reports Bloomberg.
For its part, Taiwan scrambled jets on 16 March to intercept incoming Chinese aircraft. China's aircraft turned for home after being sent a broadcast warning, but Taipei complains that Beijing is increasing military exercises during the coronavirus crisis.
Nonetheless, in some cases, the coronavirus may present an opportunity to extend an olive branch to old foes, says Esper.
"We've had adversaries like Iran, who is also suffering very badly, and I [think it's] important to note that we've reached out to try and offer them aid and support," he says.
ADVERSARIAL CAPITAL
The DoD is also worried that adversaries of the USA are looking to take advantage of the economic downturn caused by coronavirus to buy up important military technologies from companies desperately searching for cash.
The Pentagon is on its guard against "adversarial capital" says Ellen Lord, undersecretary of defense for acquisition and sustainment for the Defense Department on 25 March. The concern is that shadowy lenders and investors – backed by foreign governments – would swoop in and offer financial aid to defence contractors, exposing military and trade secrets.
"It is critically important that we understand that during this crisis the [economic] dip is vulnerable to adversarial capital," says Lord. "So, we need to ensure companies can stay in business without losing their technology."
The DoD plans to heavily lean on previously established vetting processes, such as the Committee on Foreign Investment in the United States, to avoid losing key technological secrets.
"We simply cannot afford to let this period of uncertainty eat into reviews. That [review of] foreign investments is shifting into hyper vigilance," says Jennifer Santos, deputy assistant secretary of defense for industrial policy.
The DoD also plans to use its Trusted Capital Marketplace programme to invest, alongside approved private financiers, in startups, she adds. The programme plans to host virtual events in place of in-person events.
The Pentagon also recently announced that it would increase progress payments for work already completed on contracts from 80% to 90% of the contract total for large businesses and from 90% to 95% percent for small businesses. Faster payment to contractors is intended to improve their cash flow.