The US Department of Defense (DoD), taken by surprise by Poland's announcement that it would offer its RAC MiG-29 fleet to Ukraine via a formal transfer to the USA in Germany, says the plan is "not… tenable" and "raises serious concerns".
US assistant secretary of defense John Kirby said on 8 March that the Pentagon is in contact with the government of Poland to discuss the offer, following that country's statement earlier the same day.
"The decision about whether to transfer Polish-owned planes to Ukraine is ultimately one for the Polish government," Kirby writes on Twitter. "We will continue consulting with our allies and partners about our ongoing security assistance to Ukraine, because, in fact, Poland's proposal shows just some of the complexities this issue presents."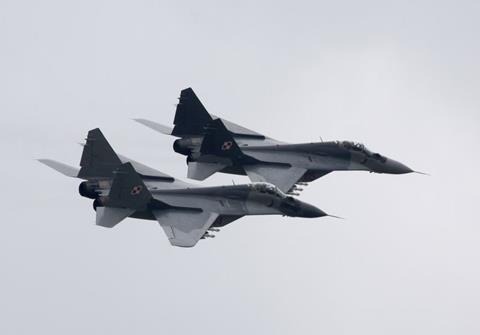 Poland's ministry of foreign affairs earlier had said it was putting the jets "at the disposal of the government of the United States of America", and that it was prepared to deliver them immediately to Germany's Ramstein air base. In return, Poland asked for "used aircraft with corresponding operational capabilities".
The Polish government encouraged other NATO countries to do the same.
Poland's MiG-29 fleet is 23-strong, according to Cirium fleets data. That is more of the type than any other NATO member country. Bulgaria and Slovakia also operate the ageing aircraft. All told, NATO powers have 56 of type.
"The prospect of fighter jets… departing from a US/NATO base in Germany to fly into airspace that is contested with Russia over Ukraine raises serious concerns for the entire NATO alliance," Kirby adds. "It is simply not clear to us that there is a substantive rationale for it."
"We will continue to consult with Poland and our other NATO allies about this issue and the difficult logistical challenges it presents, but we do not believe Poland's proposal is a tenable one," he says.
Prior to the conflict, which began on 24 February, Ukraine had 43 examples of the type. It is unknown how many, if any, remain airworthy following 13 days of war between the two nations.
On 6 March, US Secretary of State Anthony Blinken said the USA was in active discussions with Poland related to the transfer of combat aircraft to Ukraine's beleaguered air force. At that time, reports suggested Poland would receive Lockheed Martin F-16s from the US Air Force inventory to replace aircraft transferred to Kyiv.