Poland's Ministry of National Defense has initiated the procurement process to acquire PZL Mielec-built S-70i Armed Black Hawks, further bolstering its helicopter modernisation activities.
Announced by Warsaw's armament agency on 24 July via social media, the Armed Black Hawk acquisition was launched with an invitation to negotiate sent to Lockheed Martin-owned PZL Mielec. It is believed that the Polish Land Forces could receive 32 of the multi-role type.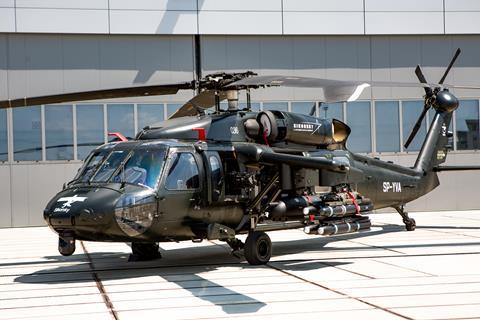 "The [Armed] Black Hawk will be able to cooperate with the [Leonardo Helicopters] AW149 acquired from PZL Swidnik and the [Boeing] AH-64E Apache planned to be acquired", the defence ministry says.
Warsaw has already ordered 32 AW149s, and intends to acquire up to 96 AH-64Es.
Separately, defence minister Mariusz Blaszczak has announced that "at the beginning of August Polish pilots will start training on Apache helicopters".
"Immediately after the end of the training, the first eight machines will be equipped with the Polish army," he says.
In May 2023 it was announced that Washington would supply Poland with eight Apaches drawn from US Army stocks in advance of it finalising a contract for the type.