Poland has signed framework agreements with South Korea to purchase military equipment including 48 Korea Aerospace Industries (KAI) FA-50PL training and combat aircraft.
Completed by defence minister Mariusz Blaszczak on 27 July, the FA-50PL purchase will deliver replacements for the Polish air force's obsolete RAC MiG-29s and Sukhoi Su-22s; the service currently has two and one squadron of the types, respectively.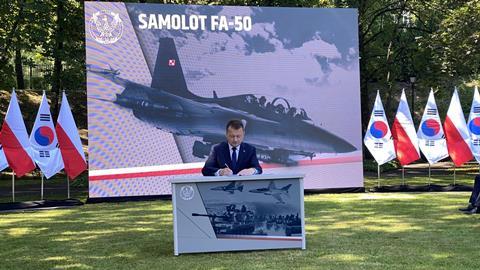 Blaszczak says the MiG-29 and Su-22 fleets have "low combat value", and that "there are problems with acquiring spare parts for them from Russia and ex-Soviet republics".
The first 12 FA-50PLs will be produced in a Block 10 standard and delivered to Poland in mid-2023, with the remainder scheduled to arrive from 2025 in a Block 20-representative configuration. Those aircraft will be equipped with an active electronically scanned array radar, Lockheed Martin Sniper targeting pod and Link 16 datalink, and armed with Raytheon AIM-9X Sidewinder air-to-air missiles.
Further weapon selections will be taken at a later stage, with Raytheon's AIM-120 AMRAAM another potential selection.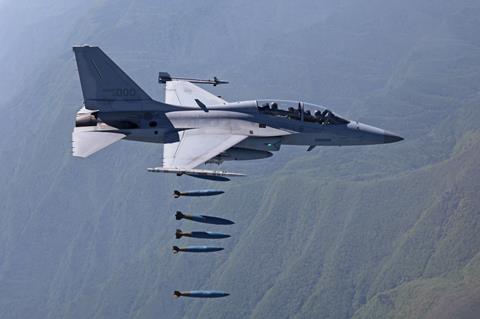 "This is one of the most important and largest Polish defence orders in recent years," Poland's Ministry of National Defence (MND) says. "The ordered weapon systems are a real strengthening of Polish deterrence and defence potential." Warsaw also has agreed "a large transfer of technology to Poland, [with] a wide participation of the Polish defence industry".
KAI values the deal at $3 billion.
It is expected that a training centre with simulators will be built in Poland to support the incoming fleet, and that an MRO centre also will be established by around 2026.
"In the mid- to long-term, the establishment and operation of an international flight training school using the FA-50 of the Polish air force will be promoted," KAI says.
"When it comes to interoperability with aircraft that are and will be in Polish air force service, [FA-50] integration will be maintained," says Major General Jacek Pszczola, inspector of the Polish air force. "The FA-50 aircraft will be integrated in the system with our [Lockheed Martin] F-16, and the infrastructure that we have is enough to adapt these aircraft smoothly to our air forces.
"We intend to transfer pilots through the FA-50 to the F-16 or [Lockheed] F-35, and the training costs will be halved," Pszczola adds.
KAI had promoted the FA-50 to Warsaw since the launch of its PZL Mielec TS-11 Iskra replacement tender in 2010. That process was cancelled one day before five bidders had been due to submit offers to supply 16 lead-in fighter trainers.
A successor contest was initiated in 2012, and in November that year Leonardo's M-346 was chosen for a 12-aircraft deal. Operated as the M-346 Bielik (white-tailed Eagle) from the 41st Training Air Base in Deblin, these will bolstered by another four of the aircraft, via a 2018 order. The Italian airframer committed to deliver the follow-on batch by the end of October 2022, but shipments have yet to begin.
Blaszczak says the "currently used M-346s have a too low availability rate", adding: "I signalled this matter to my Italian counterpart several times. That is why we decided on the FA-50, which will allow us to increase the number of cadets who will train at the Polish air force university as well as performing some NATO missions."
Additionally, the MND notes that its cooperation with KAI could later be expanded.
"Poland is also interested in possibly acquiring in the future the new-generation [KAI] KF-21 Boramae," it states. "In the Polish armed forces' Technical Modernisation Plan for 2021-2035 there is still a task to purchase another two multi-role fighter squadrons."