A first of five Lockheed Martin C-130H tactical transports acquired for use by the Polish air force landed at the nation's Bydgoszcz airport on 15 July.
The H-model Hercules are being transferred from surplus US Air Force stocks via Washington's Excess Defense Articles programme, under an agreement signed in April 2021.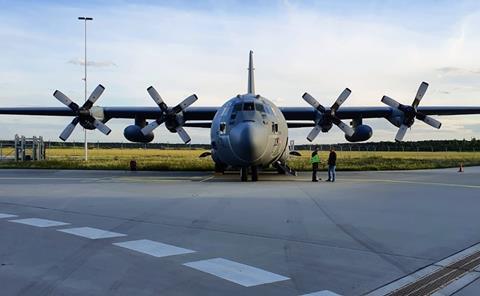 Warsaw is paying $14.3 million for the transports' partial retrofit and transfer to Europe, while the USA has estimated their value at $60 million.
Before commissioning the assets for operational use at the 33rd Transport Aviation Base in Powidz, programmed depot maintenance will be performed at the WZL-2 Military Aviation Works in Bydgoszcz. Their technical condition was previously assessed by Polish personnel during visual inspections conducted at the 309th Aerospace Maintenance and Regeneration Group storage facility at Davis-Monthan AFB in Arizona.
The Hercules also will be retrofitted with additional equipment in-country to meet Polish air force requirements, and deliveries should be completed by no later than mid-2024.
Manufactured in 1985 and retired from USAF service in 2017, the secondhand C-130Hs (including the lead example now at Bydgoszcz, formerly 85-0035) are 15 years younger than the five E-model Hercules fielded by the Polish air force between 2009 and 2012.
According to an earlier statement from Poland's Ministry of National Defence, "the decision on the dates of withdrawal of the C-130E will be made by their user, taking into account the security of the required capabilities and the condition of the aircraft".