The Polish air force's Korea Aerospace Industries (KAI) FA-50PL Block 20 combat aircraft will be equipped with an enhanced 1KTV version of Lockheed Martin's Sniper targeting pod.
"Integration will be Lockheed Martin and KAI's responsibility, and Poland will not pay additional costs," says Wade Tolliver Jr, international business development, fixed-wing, sensors and global sustainment at the US airframer.
"Our plan is to deliver Sniper pods in parallel with FA-50s for the Polish air force, and it will be phased approach," he said during the MSPO show in Kielce.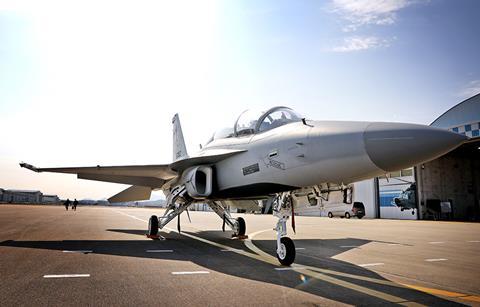 The Polish air force has so far taken delivery of four of the South Korean-built jets in a GF ('gap filler') configuration. This includes two which were presented at Minsk Mazowiecki air base late last month.
Another eight FA-50GFs will be delivered by year-end, to be followed between 2025 and 2028 by 36 built in a full FA-50PL standard. The initial batch will then be upgraded to the same configuration, which will be capable of carrying all planned types of armament and equipment for Warsaw, including the Sniper pod. The PL-model fighter also will be capable of undergoing in-flight refuelling, with flight trials of the capability having begun earlier this year.
"Polish FA-50s will be used to patrol the sky over Poland, for allied missions over the Baltic states, and to ensure the safety of Slovakia's airspace," says defence minister Mariusz Blaszczak.
Three squadrons will operate the new type: two at Minsk Mazowiecki – where an operational conversion unit also will be established – and another at Swidwin air base, replacing Sukhoi Su-22s.
Poland's first four FA-50 pilots completed their training in South Korea in early July, after receiving instruction from KAI in Sacheon, and at the Republic of Korea Air Force's Gwangju and Yecheon bases.