PZL Mielec believes it could sell its Armed Black Hawk to the Polish army, with the service potentially having a requirement for 32 of the rotorcraft.
"We were asked by the Polish MND [Ministry of National Defence] to provide a notional configuration and schedule, and we delivered those documents at the end of last year," says sales and business development manager Marek Chojecki. "We heard recently that soon we might expect an invitation to negotiate, and we are waiting for the MND to invite us to continue dialogue."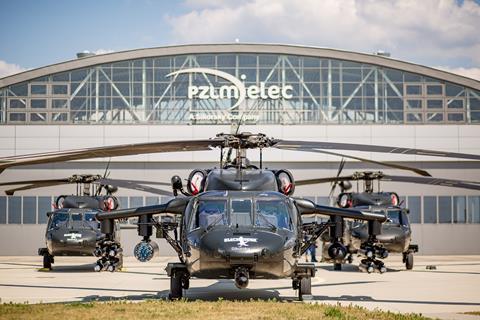 In 2019, Lockheed Martin-owned PZL Mielec exhibited an S-70i with Lockheed AGM-114 Hellfire and JAGM air-to-surface missiles installed on a Polish-designed Wing Armed Pylon Station, plus door-mounted machine guns. Other armament options include Rafael Spike air-to-air surface missiles and guided/unguided rockets, or the structure can carry external fuel tanks.
Poland in late May announced its intention to buy 22 Leonardo Helicopters AW101s, to replace Mil Mi-8/17s operated by its army's 25th Air Cavalry Brigade from mid-2025. It also last year finalised an order for 32 Leonardo AW149s.
AIDING APACHE
"There is still room for the Armed Black Hawk, given how the MND envisions using its coming [96 Boeing] AH-64E Apaches," Chojecki says. "The US forces always use Apaches and Black Hawks together, so we think that there is a place for us.
"There are two OEM helicopter manufacturers in Poland [PZL Mielec and Leonardo-owned PZL Swidnik], and the Polish government can use both of them for deliveries," he adds.
PZL Mielec employs 1,500 people and sustains jobs for more than 5,000 more in Poland's supply chain.
"After design and certification is completed, the S-70i could be converted into an armed helicopter in several months, so we can provide a weaponised variant for the army. We are working with suppliers of weapons, to integrate them and deliver," says chief design engineer Radoslaw Gronski.
PZL Mielec became a wholly-owned part of Lockheed unit Sikorsky in March 2007. It produced its first S-70i cabin two years later, and in 2010 assembled a complete example of the utility helicopter.
S-70i deliveries began in 2011, with the UH-60 Black Hawk derivative's first customers being Brunei, Colombia, Mexico and Saudi Arabia.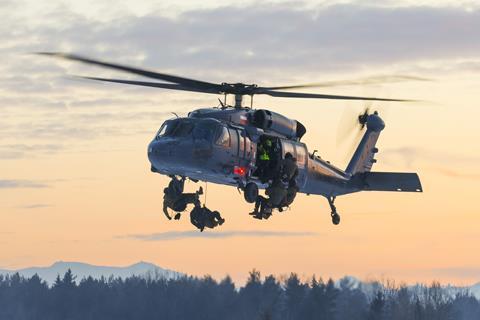 By 2022 the company had delivered 640 S-70/UH-60 cabins and shipped 90 S-70is – in various configurations – to customers in 10 countries. Operator nations also include Chile, the Philippines, Thailand, Turkey and the USA, and the type is used by Poland's National Police and Special Operations Forces.
In January 2019 the MND confirmed a four-unit order to provide an enhanced capability to support special operations tasks. The assets were delivered in December the same year, with their configuration supporting night flights in degraded visual conditions, plus armament and equipment which enables them to transport loads and evacuate wounded personnel.
The MND in September 2021 decided to order another four S-70is for special forces duties, but no additional details were disclosed.
POLISH NEED
Meanwhile, PZL Mielec last December finalised a contract with the Polish National Police for two S-70is, which will increase its fleet of Black Hawks to five by the end of 2024. The expanded fleet will perform duties including counter-terrorism activities, search and rescue, and firefighting. Its current three Black Hawks were delivered in 2018 and 2019, and are employed for tasks such as search and rescue, border patrol and natural disaster response.
The Mielec facility is able to produce 20 Black Hawks per year, while its minimum sustainable production rate is between eight and 10. It currently has its 130th example on the final assembly line, with aircraft typically taking between three and five months to complete.
Asked about the possibility of increasing manufacturing output to 24 helicopters per year, Piotr Niedbala, business development and programmes director, notes: "after doing some analysis of where the bottlenecks are, the facility is ready to fulfil the higher number".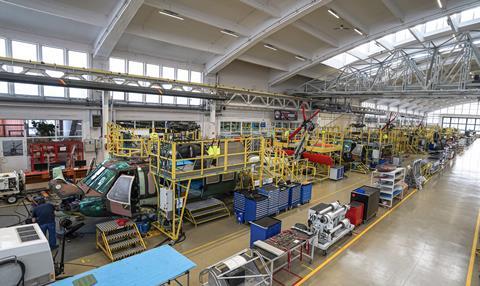 In the last four years, PZL Mielec has signed several multi-year contracts for the S-70i. In April 2019, Manila awarded it a contract for 16 examples, as part of the armed forces of the Philippines modernisation act.
Delivered over a 12-month period from December 2020, the aircraft are in use with the Philippine air force's 205th Tactical Helicopter Wing at Mactan-Benito Ebuen air base. In February 2022, the company secured a follow-on order to supply the service with another 32 of the type, to be transferred by 2026. The assets will be used to dramatically increase the Philippine air force's ability to perform search and rescue missions, humanitarian assistance and disaster relief flights, and troop transport.
Chojecki says a first batch of five aircraft will be shipped to the customer this year, "followed by 10 helicopters each in 2024 and 2025, and the final seven aircraft in 2026. This was our largest single contract signed, after we successfully delivered the first 16. The Philippine air force will become the largest user of Polish-built Black Hawks."
Romania in November 2021 signed a framework agreement with PZL Mielec covering the provision of up to 12 aircraft over a four-year period. The S-70M helicopters will be configured for land or maritime operations, including disaster relief, search and rescue and medical transport, with their cabins to include a medical suite supplied by Cluj-Napoca-based Deltamed.
The lead Romanian S-70M performed its debut flight last September, and the nation's first six aircraft are to be delivered this year. Bucharest has so far confirmed an order for its seventh example.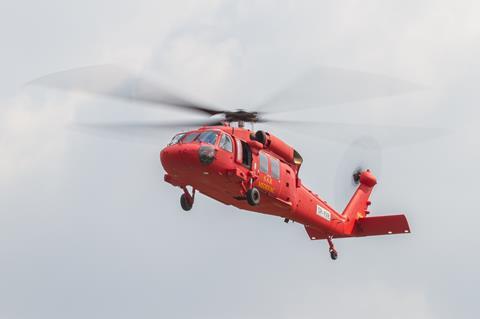 Meanwhile, the latest addition to PZL Mielec's business portfolio is its production of structures for Lockheed's F-16 Block 70/72 fighter.
Manufacturing implementation and preparation work started last year, including site modernisation and establishing a production line. A group of 46 PZL Mielec employees also spent six months working at Lockheed's Greenville final assembly site in South Carolina to gain experience.
"We are producing the central part of the fuselage: the aft, centre and forward parts," says PZL Mielec president and general director Janusz Zakrecki.
The first two aircraft sets were completed and shipped to Greenville in late March.
Lockheed hopes to achieve peak production of four sets of F-16 parts per month within the next four years, but its Polish supplier says that it could achieve this output by 2025-2026 if required.
Asked if there any future plans to carry out final assembly of the fighter in Mielec, Zakrecki says: "it is the beginning of the F-16 journey for the company. We manufactured [TS-11 Iskra and I-22 Iryda] jet trainers in the past, so we have the capabilities."