Romania has returned its Elbit Systems-modernised Mikoyan MiG-21 fighters to use, weeks after grounding the fleet following a fatal accident involving the Soviet-era type.
The Romanian air force's remaining examples were cleared to resume operations on 23 May, the nation's defence ministry says. It describes the decision as a stop-gap measure, to continue only until the aircraft are retired by 15 May 2023.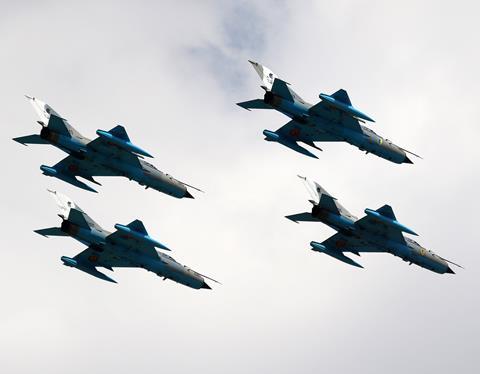 Air force operations with the aged fighter will be restricted to conducting national air policing duties and training flights required to maintain pilot readiness, the defence ministry says.
On 2 March, a Romanian MiG-21 crashed, killing its pilot, with seven personnel also killed when an IAR 330 Puma search and rescue helicopter tasked with finding the wreckage was also lost.
Romania also is accelerating its efforts to acquire 32 ex-Royal Norwegian Air Force Lockheed Martin F-16AM/BMs for €354 million ($380 million). These aircraft are intended to replace the nation's obsolete fleet of 20 single-seat MiG-21MF/MF-75s and six twin-seat trainers, assigned to the 711th and 861st fighter squadrons.
The Romanian air force already operates 17 refurbished and modernised F-16AM/BMs acquired second-hand from Portugal between October 2016 and March 2021. Flown by the 53rd Fighter Squadron from Fetesti-Borcea air base, these are scheduled to be updated to the M.6.X operating standard by Bacau-based Aerostar.
Meanwhile, as a result of the ongoing Russia-Ukraine war, measures have been taken by the authorities in Bucharest towards initiating the launch of a programme to acquire a new-generation combat aircraft, such as the Lockheed F-35.