The Sukhoi Su-75 will fly in 2023 and start deliveries in 2026, says United Aircraft (UAC), which unveiled Russia's latest lightweight fighter design at a ceremony at the MAKS air show on the evening of 20 July.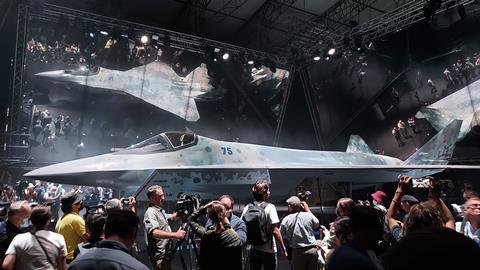 UAC chief executive Yuri Slyusar told those assembled that the single-engined jet – which had been earlier revealed as "Project Checkmate" – was "more than just a mock-up". Instead, it is understood to be an engineering prototype for ground testing, including iron bird and copper bird functions.
Although Slyusar did refer to the design as the Su-75, the right to confer designations traditionally belongs to Russia's armed forces, once the aircraft is operational. He notes that the name is a deliberate reverse of the digits on Sukhoi's twin-engined Su-57 stealth fighter, developed for the Russian air force.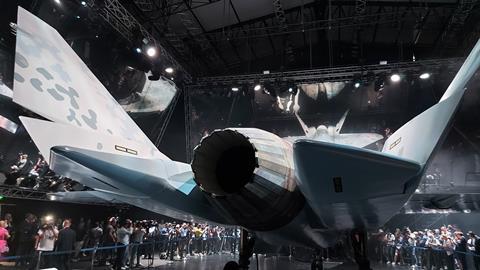 Slyusar describes the Su-75 as an affordable fifth-generation fighter that offers high performance at low acquisition and sustainment costs. His boss, Sergei Chemezov, chief executive of Rostec, says the "flyaway" price of each aircraft will be between $20 million and $30 million. UAC is targeting 300 sales.
"This is not a dream," insists Slyusar. "We made a thorough assessment of the global market using a number of criteria and found that the demand for such an aircraft is large provided we bring the product to market quickly enough."
He admits that to do that within five-and-a-half years is challenging, but progress on the programme has allowed UAC to bring the entry-into-service target date forward from 2027.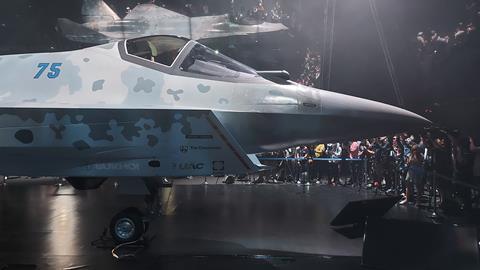 The type's primary role will initially be aerial combat, with adaptations for ground attack, anti-ship, and reconnaissance following. The aircraft will have five internal weapons bays and a weapons load of up to 7.5t. Maximum speed is given as Mach 1.8, and range as 1,620nm (3,000km).
UAC says the Su-75's aerodynamic shape will give it better stealth credentials than existing lightweight fighters. Although it has not named an engine, it is believed to be considering a variant of the "Item 30" version of the NPO Saturn AL-41F1 being developed for the Su-57M.
Mikhail Strelets, the chief designer who heads the project at Sukhoi, says the Su-75 will be equipped with an active electronically scanned array radar capable of tracking 30 targets simultaneously and guiding missiles against six of them.
Slyusar says the Su-75 is an industry-led initiative rather than a response to a specific Russian air force requirement. However, he is confident that Moscow will order a number of examples.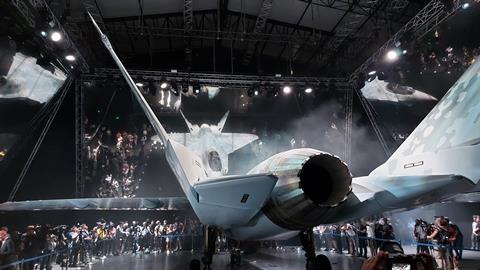 Russia's trade and industry minister Denis Manturov says industry has been working on the fighter concept for four years, and notes that the Su-75 marks an attempt to re-enter a segment that was once served by the likes of the Mikoyan-Gurevich MiG-21.
Yuri Borisov, a deputy to the Russian prime minister with responsibility for the defence industrial sector, says potential customers include India, Vietnam and "African countries".