Russia's internal affairs ministry is probing an incident involving alleged theft from a military Ilyushin Il-80 command and control aircraft.
The Il-80 is a heavily-modified airframe based on the four-engined Il-86 passenger transport, notably featuring a characteristic equipment pod on the upper forward fuselage.
Three of the type are still in operation.
Law enforcement officials from the internal affairs ministry's investigation department state that they have "opened a criminal case" over the "theft of property from an aircraft" at Taganrog airfield.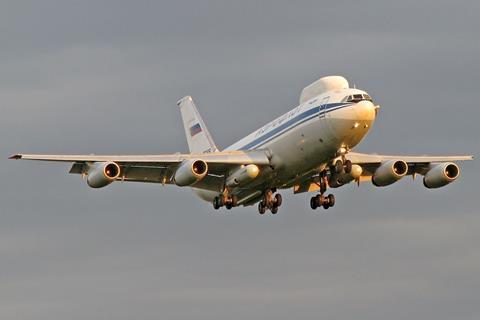 The department says police were informed by a company in the city that property worth more than Rb1 million ($13,500) had been "stolen" from an Il-80 parked at the facility.
It has not specified when the alleged theft took place, nor how it was accomplished, and it has not detailed the nature of the property taken or identified the airframe involved.
But the Il-80 is a military and government airborne command post, which suggests a serious breach of security.
"An investigative and operational team has gone to the scene," says the ministry department, adding that the "necessary" actions and search measures are being conducted.