The companies say in a joint press conference at the Association of the US Army exposition in Washington, D.C. on 15 October that they decided to ground the demonstrator for the Future Long-Range Assault Aircraft (FLRAA) programme in order to tackle the gearbox issue early, and enable a longer stretch of uninterrupted flight testing later.
"We saw a phenomena called fairing creep in the gearbox," says Ken Eland, Boeing senior programme manager for FLRAA. "And so, we made a minor design tweak to keep that from becoming an issue in the gearbox. So, that was what we took the time this summer [to do]."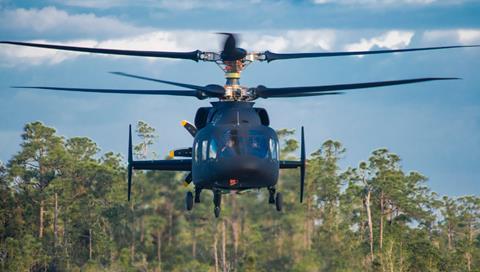 The delay has meant that the SB-1 has done only four hours of total flight time over four flights. On the most recent flight, on 24 September, the aircraft flew for one hour.
Sikorsky and Boeing were aiming to fly the compound helicopter about 115h before the end of 2019. The companies are now not aiming for any quantity of hours, but are trying to wring out the helicopter's performance envelope as much as possible before the third or fourth quarter of next year. It is at that time the team expects the US Army will want final flight testing data.
The team plans for a fifth flight within about two weeks, during which time the aircraft will do a ground run test and will continue to push its speed envelope. The SB-1 will likely increase its flight speed in 40kt (74km/h) increments up to 230kt by the end of the first quarter in 2020, say Sikorsky and Boeing.
The companies say at the NASA Ames Research Center a subscale model of the SB-1 Defiant has been successfully tested at 250kt. Moreover, modeling predicts the helicopter is capable of up to 248kt, says Eland.