Serbia has "for already a year" been negotiating a potential purchase of 12 new Dassault Rafale combat aircraft from France, plus the same number of second-hand "fighter bomber" aircraft of unspecified type or origin, says the country's newly re-elected President Aleksandar Vucic.
Made on 9 April, his comments represent a first official confirmation that Serbia – an EU candidate but declared as a neutral country – is turning to the West as the primary source of its combat aircraft procurements, putting an end to 60 years of operating various Mikoyan MiG-21 variants and RAC MiG-29s.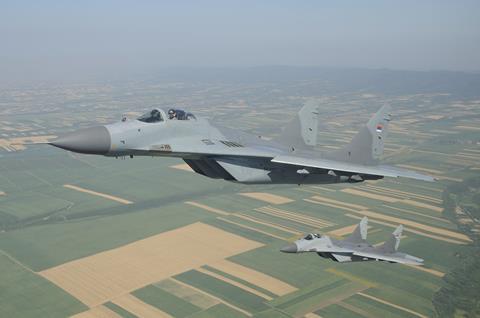 French media reports indicate that Dassault submitted a first offer in March for a dozen Rafales. However, the suggestion of Belgrade also acquiring second-hand aircraft – which a number of pro-government media outlets in Serbia suggest could be the Eurofighter Typhoon – appears less certain, due to the challenge of operating two small fleets of different types.
Serbia has previously added 10 MiG-29s donated from Russia and Belarus in 2017 and 2021 to its inventory, and put them through various phases of modernisation. These and all its other examples of the type – including four inherited from the former Yugoslavia – were produced between 1987 and 1991, and have limited service life, due to an airframe limit of 40 years.
While RAC MiG offers service life extension on a case by case basis, such a scenario seems questionable due to EU and US diplomatic pressure on Serbia to reduce links with Russia due to its war in Ukraine. Belgrade opted against imposing sanctions on Moscow, but has condemned the invasion and says it "supports [the] territorial integrity of Ukraine".
The issue could also cast doubt on Serbia's existing orders for four Mil Mi-35M and three Mi-17V5 helicopters.
Vucic also confirms that a procurement of Baykar Bayraktar armed unmanned air vehicles (UAVs) is being discussed with Turkey, and that he has been "promised by [President Recep Tayyip] Erdogan that Serbia can get them". The nation also plans to buy an undisclosed number of armed CASC Rainbow CH-95 UAVs from China.
Meanwhile, Serbia from 9 April took delivery of an FK-3 long-range surface-to-air missile system ordered from China in 2019. An initial shipment of equipment was completed using six People's Liberation Army Air Force Xian Y-20 strategic transports, landing at Batajnica air base near Belgrade.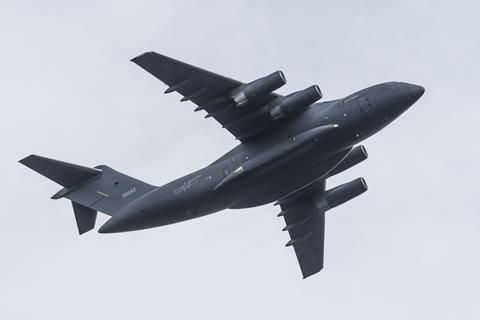 The operation was repeated on 10 and 11 April, with several of the aircraft using Belgrade International airport as a refuelling stop.