The US Department of Defense (DoD) has awarded Texas A&M University's Engineering Experiment Station a 5-year contract worth $20 million per year to establish and manage the University Consortium for Applied Hypersonics.
The consortium will coordinate research and development efforts for technologies needed for hypersonic flight, such as new propulsion and guidance systems. It is also intended to help develop expertise in hypersonic flight within the USA, but also with allied nations Australia, Canada and the UK.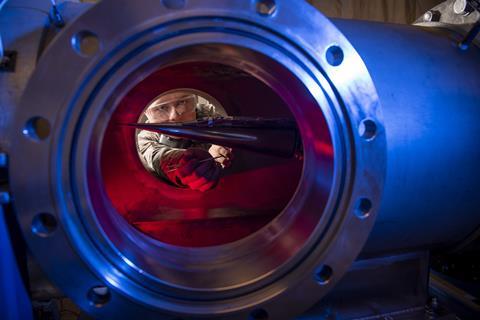 The University Consortium for Applied Hypersonics is expected to start operating this fall. It will coordinate joint projects between the US companies, universities, military services, defence research agencies, as well as other US government organisations, such as NASA and the Department of Energy, says the Pentagon on 26 October.
"The consortium will concentrate on developing hypersonic technologies, investigate efficiencies related to the industrial base, and strengthen partnerships with small and large companies to transition technology and reduce system development timelines," it says.
Ultimately, the DoD wants to transition academic research to operational weapons faster by joining with research institutions that have modelling and testing capabilities.
"We often have difficulty transitioning [Defense] Department-funded basic research from universities through industry to operational applications," says Mark Lewis, acting deputy under secretary of defense for research and engineering. "It is a particular challenge in hypersonics, where multiple disciplines must intersect precisely to move forward. The consortium will help us link a deeper understanding of our operational requirements to the exceptional research being conducted across the nation."
While Texas A&M Engineering Experiment Station, a state-run research centre located in College Station, will lead the effort, the consortium will also be guided by a board of national experts. Those additional experts will be drawn from the California Institute of Technology, the Massachusetts Institute of Technology, Morgan State University, Georgia Institute of Technology, Purdue University, University of Arizona, the University of California-Los Angeles, the University of Illinois at Urbana-Champaign, the University of Minnesota, and the University of Tennessee Space Institute.
Texas A&M Engineering Experiment Station says it has heard from 41 additional institutions committed to participating in the consortium. The DoD anticipates participation will grow further to include institutions from Australia, Canada and the United Kingdom.
Those countries are members of The Five Eyes intelligence sharing alliance with the USA (New Zealand is the fifth alliance member, but wasn't mentioned as part of the consortium). Typically, Five Eyes allies are trusted with the most sensitive national intelligence information, in this case the latest research on hypersonic technology.