Warsaw is poised to transfer an initial batch of surplus RAC MiG-29 fighters to Ukraine, Polish President Andrzej Duda has announced.
"In the coming days we will transfer four MiG-29s to Ukraine in full operational condition. Other aircraft are being serviced and prepared," he said on 16 March.
"We currently have a dozen or so these aircraft," Duda notes, with the type tasked with defending Polish airspace. He has not disclosed how many of the aged jets are planned for transfer to the Ukrainian air force.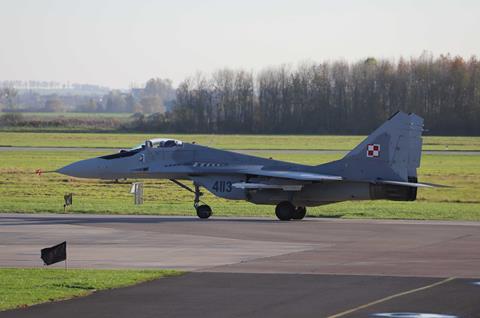 His announcement indicates that deliveries will take place at an accelerated pace: Polish Prime Minister Mateusz Morawiecki had only two days earlier said the activity "could be done in four to six weeks".
Poland's MiG-29s are to be replaced in service from later this year by an initial 12 Korea Aerospace Industries FA-50s. A first example has already been rolled out in Sacheon, South Korea, with Warsaw also to take 36 more in an enhanced PL-model standard.
The nation also already operates 48 Lockheed Martin F-16C/Ds, and has plans to acquire 32 of the US manufacturer's F -35A stealth fighters.
In 2002, Poland bought 22 used MiG-29s – which at that time were 15 years old – from Germany, for a symbolic price of €1 per aircraft. Including 18 single-seat fighters and four two-seat trainers, these had previously been operated by East Germany prior to the nation's reunification.
Fourteen of the aircraft were brought into service by Poland following modernisation and overhaul work, and delivered between September 2003 and August 2004 for use at Malbork air base.
Including other examples, the Polish air force inventory currently totals 22 MiG-29As and six MiG-29UBs, although not all are in operational condition.
With Ukrainian President Volodymyr Zelensky having called on NATO nations to re-equip its air force with fighters, Poland is the first nation to commit to doing so.
Questions arising from the Polish commitment include whether it will prompt fellow NATO MiG-29 owners Bulgaria and Slovakia to also agree to send their jets to Ukraine; and how effective the assets can be.
Slovakia withdrew its MiG-29s from use last August, after reaching an airspace protection agreement with the Czech Republic and Poland. This will provide cover until its 14 on-order F-16s are delivered from 2024.
Defence minister Jaroslav Nad has stated that Slovakia could eventually send up to 13 MiG-29s to Ukraine: 10 airworthy examples and three stored, unmodernised aircraft to provide spare parts.