The US Air Force (USAF) and unnamed venture capital firms have invested $60 million into Hermeus Corporation as part of an effort to develop and test fly an unmanned hypersonic aircraft and propulsion systems.
The company is being funded via the Air Force Life Cycle Management Center's Presidential and Executive Airlift Directorate, the Air Force Research Laboratory (AFRL), in addition to private investors, the service said on 5 August. The share or terms of the USAF's investment were not disclosed.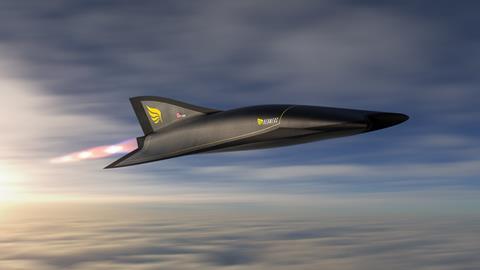 The investment is part of a larger effort, called the "Vector Initiative", lead by the Presidential and Executive Airlift Directorate, to boost the commercial development of high-speed passenger travel.
"The initiative aims to partner with commercial sector leaders to accelerate their development and, as a byproduct, advance enabling technologies that could provide the air force options for a variety of missions," says the USAF. The directorate is also investing in supersonic passenger airliners.
"We are transforming the Air and Space Force into an early-stage investor that leverages private capital, accelerates commercialisation of technology and grows the number of companies partnering with the Department of the Air Force," says Colonel Nathan Diller, director of AFWERX, a division within the AFRL that focuses on jointly developing aerospace technologies with private companies and investors. Hermeus is the first company funded via AFWERX's Strategic Financing programme.
"One of our goals in supporting companies like Hermeus, is to expand the defence industrial base for both aircraft manufacture, and hypersonic propulsion development," says Brigadier General Jason Lindsey, programme executive officer for the Presidential and Executive Airlift Directorate. "Ultimately we want to have options within the commercial aircraft marketplace for platforms that can be modified for enduring air force missions such as senior leader transport, as well as mobility, [intelligence, surveillance and reconnaissance], and possibly other mission sets."
During the Cold War, the USAF used high-speed aircraft, such as the Mach 3-plus Lockheed SR-71 Blackbird, to spy on adversarial militaries. In recent decades, subsonic stealth aircraft, such as the Lockheed Martin RQ-170 Sentinel unmanned air vehicle, have taken over the spy job.
However, the potential of hypersonic vehicles – defined as aircraft or missiles flying M5 or faster – to catch adversaries by surprise has generated renewed interest by the US Department of Defense. Hypersonic vehicles fly so fast and low that by the time an adversary sees one coming over the curvature of the Earth it is too late to try and shoot it down.
QUARTERHORSE
Start-up Hermeus was founded in 2018. It had previously received about $16 million in funding from venture capital firms, including Khosla Ventures, Canaan Partners and Bling Capital, according to investment database Crunchbase.
In August 2020, the USAF awarded Hermeus a $1.5 million contract to assess modifying the company's in-development M5 jet concept into an aircraft for the future Presidential and Executive Airlift fleet, perhaps to become a hypersonic "Air Force One" transport for future US presidents. The company told FlightGlobal at the time that its aircraft would have a 20-passenger capacity and a 4,000nm (7,410km) range.
In March, Hermeus signed an agreement with NASA to study its technology's maturity and exchange subject matter expertise.
The company's demonstrator hypersonic aircraft is called Quarterhorse. As part of its recent agreement with the USAF, the start-up is to develop, build and test three examples of that unmanned aircraft within three years. It is also to provide a payload integration guide for future hypersonic flight testing with the aircraft.
"Quarterhorse will validate the company's proprietary turbine-based combined cycle engine, based around the GE J85 turbojet engine, and is the first in a line of autonomous high-speed aircraft," says the service. GE Aviation's J85 is a widely available small turbine that powers the USAF's Northrop T-38 Talon jet trainer. A turbine-based combined cycle engine is a conceptual form of hypersonic propulsion that would pair a conventional jet turbine with a ramjet.
"We have a pre-cooler technology that we integrate to the front of the engine. We have a ramjet that we put on the back end," AJ Piplica, chief executive and co-founder of Hermeus, told FlightGlobal in August 2020. "And the ramjet is what we used to get all the way up to M5, once we get to the M3 range."
The USAF says it also wants to increase its understanding of enabling technologies and mission capabilities of reusable hypersonic aircraft. And, it wants wargaming inputs from the tests for its strategic analysis tools – presumably to learn how China and Russia might use their in-development hypersonic missiles.