Canada's Prime Minister Justin Trudeau ordered fighter jets to shoot down an unidentified airborne object, the third such object that has been downed over North America in one week.
The object was downed on 11 February after the joint USA-Canada North American Aerospace Defense Command (NORAD) had tracked it overnight.
"I ordered the take down of an unidentified object that violated Canadian airspace," Trudeau wrote in a tweet on 11 February. "NORAD… shot down the object over the Yukon. Canadian and US aircraft were scrambled, and a US [Lockheed Martin] F-22 successfully fired at the object."
"I spoke with President Biden this afternoon," Trudeau adds. "Canadian Forces will now recover and analyse the wreckage of the object."
It's the second such strike over northern North America in two days, and the third in the past week.
Canadian defence minister Anita Anand says that she "discussed this with [US secretary of defense Lloyd Austin] and reaffirmed that we'll always defend our sovereignty together".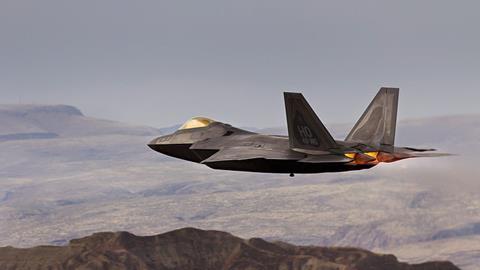 US Pentagon press secretary Brigadier General Pat Ryder confirmed the strike on 11 February.
"Following a call between the prime minister of Canada and the President of the United States, President Biden authorised US fighter aircraft assigned to North American Aerospace Defense Command to work with Canada to take down a high-altitude airborne object over northern Canada today. NORAD detected the object over Alaska late Friday evening," he says.
"Two F-22 aircraft from Joint Base Elmendorf-Richardson, Alaska, monitored the object over US airspace with the assistance of Alaska Air National Guard refuelling aircraft, tracking it closely and taking time to characterise the nature of the object," Ryder adds.
US and Canadian militaries continued to monitor the object overnight as it moved into Canadian airspace.
"A US F-22 shot down the object in Canadian territory using a [Raytheon] AIM-9X missile following close coordination between US and Canadian authorities," he says.
Neither US nor Canadian officials gave any further details as to what the object may have been, or where it came from. The US Federal Bureau of Investigation and Canada's Royal Canadian Mounted Police will investigate the matter, Ryder adds.
On 10 February the US Department of Defense said its fighter aircraft shot down an unidentified high-altitude object the size of a small car off the northern coast of Alaska. In that case, an F-22 used the same projectile, an AIM-9X Sidewinder air-to-air missile, to bring the object down.
Just six days earlier, a fighter jet shot down a large balloon craft belonging to China off the coast of South Carolina after it passed over the USA, including Alaska, without permission from Washington. The Pentagon claims it was a surveillance platform.