The US Marine Corps (USMC) has demonstrated a Bell AH-1Z establishing a two-way connection to a ground station using new Link 16 hardware and software.
The airborne connectivity test took place at NAS Patuxent River, the US Naval Air Systems Command (NAVAIR) said on 7 June.
The US Department of Defense is pushing to have its military equipment networked so that soldiers, sailors and pilots can quickly share battlefield information, and speed up the time it takes to spot and fire upon adversaries.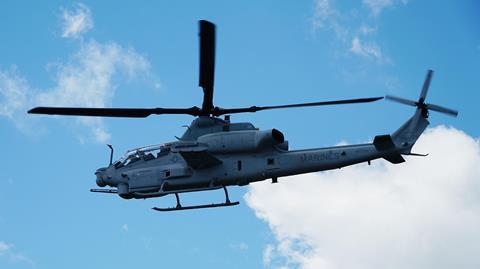 "Link 16 and [Advanced Networking Wideband Waveform datalinks] enable the AH-1Z to rapidly share information with other weapon systems, provide greater situational awareness, accelerate the kill chain, and enhance survivability to outmanoeuvre and defeat the threat across a range of military operations," says NAVAIR.
For instance, battlefield networks might allow an aircraft, such as the AH-1Z, to spot an adversary and then pass off location information to an artillery unit, which could fire upon the target. Bell points out that the Viper carries a "fully integrated anti-air capability" with the capacity to carry two short-range Raytheon AIM-9 Sidewinder air-to-air missiles. That capability could possibly be exploited if a ground or ship-borne radar station shared targeting data about an incoming aircraft.
Northrop Grumman provided the Link 16 package of hardware and software, which brings with it a new digital moving map, a new security architecture and the Advanced Networking Wideband Waveform datalinks.
The USMC plans addition flight tests for Link 16 aboard the AH-1Z throughout the summer, to be followed by flight testing of the data link on the Bell UH-1Y Venom, a utility helicopter that has about 85% of its parts in common with the attack helicopter. The service anticipates AH-1Z initial fleet integration with Link 16 in 2022.
The addition of new Link 16 capabilities is part of a road map of planned improvements to the AH-1Z and UH-1Y designed to keep the helicopters relevant on the battlefield through the 2040s, says Bell. The AH-1Z and UH-1Y fleet recently passed more than 400,000h in combined flight time. Both models have been deployed since 2010.