The US Navy (USN) has for the first time deployed its Lockheed Martin F-35C stealth fighter and Bell Boeing CMV-22B Osprey tiltrotor as part of an operational deployment on an aircraft carrier.
The USS Carl Vinson, a nuclear-powered aircraft carrier, set sail with the aircraft from San Diego on 2 August, the service says.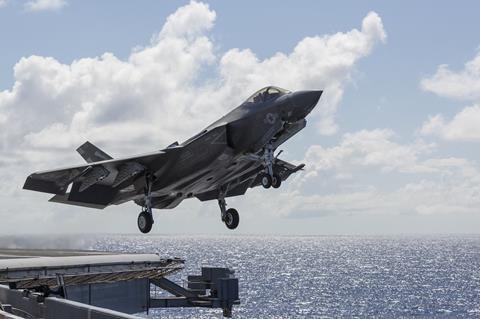 The Carl Vinson Carrier Strike Group will participate in a large-scale naval exercise as part of its initial deployment, says the USN.
"Vinson is the first carrier to accommodate a mix of 4th- and 5th-generation strike fighters, providing unprecedented lethality and survivability and ensuring the navy team can operate and win in contested battlespace now and well into the future," says Captain Tommy Locke, commander of Carrier Air Wing 2. "We plan on leveraging recently established tactics, techniques and procedures and developing innovative ways to use the new technologies to enhance our combined warfighting efforts."
The "C" variant of the F-35 is designed to operate from USN carriers. It has a larger wingspan of 13.1m (43ft), compared to the F-35A and F-35B variants, improving its low-speed handling characteristics.
The fighter has a 600nm (1,100km) combat radius and, as the USN's first stealth aircraft, is intended to be used for penetrating strikes against sophisticated adversaries, such as targets in mainland China or Russia.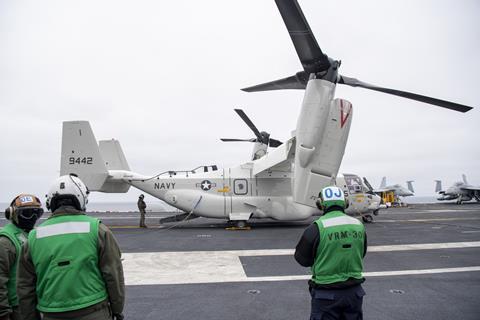 The CMV-22 – originally a troop transport for the US Marine Corps, called the MV-22 – is to support logistics for the F-35, in addition to transporting personnel, mail and priority cargo to aircraft carriers. The tiltrotor replaces the Grumman C-2A Greyhound twin-turboprop.
The USN plans to use the CMV-22 to ferry the F-35's Pratt & Whitney F135 jet engine to and from aircraft carriers. The tiltrotor can carry 2,720kg (6,000lb) of cargo or personnel over 1,150nm.
The USN's programme of record for the CMV-22 is 48 aircraft. Its programme of record for the F-35C is 273 examples.