The US Navy (USN) intends to negotiate and award a contract to Bell to engineer an aft-cabin door redesign of the Northrop Grumman MQ-8C Fire Scout to accommodate potential weapon stores.
The work is intended to push forward weapon studies completed in late 2019 on the unmanned helicopter and follows structural analysis of the MQ-8C weapons sockets performed by Bell, the USN says in a sole source award notice posted online 25 November.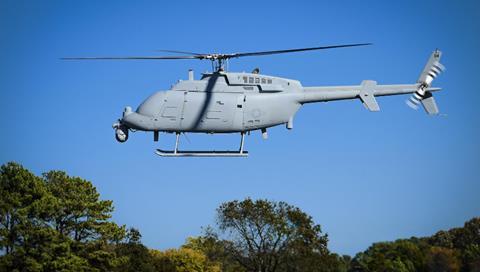 The MQ-8C is an unmanned version of the civilian Bell 407. Its airframe is made by Bell, but its various unmanned flight controls and intelligence, surveillance and reconnaissance (ISR) payloads are integrated by prime manufacturer Northrop Grumman.
The USN declared initial operational capability for the MQ-8C in June 2019, a milestone allowing the service to start fleet operations and training. The service plans to deploy the unmanned air vehicle (UAV) aboard its littoral combat ships in FY2021.
The MQ-8C does not carry weapons but is intended to initially serve as an ISR aircraft for the USN.
The service has long talked about adding weapons to the rotorcraft. Problems storing weapons aboard littoral combat ships as well as a Department of Defense shift towards countering threats from geopolitical competitors, such as China and Russia, caused the USN to rethink the helicopter's weapons payload, delaying the addition of munitions to the aircraft, the service has said.
"The MQ-8C could carry precision guided weapons," says Captain Eric Soderberg, Fire Scout programme manager. Specific requirements for the unmanned helicopter have not yet been determine, however, he says.
The UAV could have a similar weapons payload to the USN's Sikorsky MH-60 Seahawk, submarine and ship-hunting manned helicopter which carries torpedoes, Hellfire missiles and Advanced Precision Kill Weapon System rockets.
Weaponisation of the MQ-8C would be a post-production addition, says Soderberg.
"The door redesign is not included in the production baseline so if this capability is implemented it will be via retrofit," he says.
In November, the service announced it intends to add Link 16 to the unmanned helicopter, integrating the communications terminal to the rotorcraft fleet over the next five years. Link 16 would allow the MQ-8C and MH-60 to directly to share information, including targeting data, instead of having to relay communications via a littoral combat ship.
Northrop Grumman has said it plans to deliver 38 examples of the MQ-8C to the USN over the next several years."
Update: The article was updated on 10 December with additional comments from the US Navy.