The USA has approved the possible sale to Switzerland of 40 Lockheed Martin F-35As or Boeing F/A-18E/F Super Hornets, just days after the Alpine nation's plans to renew its fighter fleet were narrowly approved via a referendum.
To be acquired via Washington's Foreign Military Sales process, the deals also include spare engines, Raytheon AIM-9X Sidewinder air-to-air missiles and GBU-53 Small Diameter Bombs, plus training and logistics services. Washington values the F-35A sale at $6.58 billion, while the Super Hornets are worth $7.5 billion.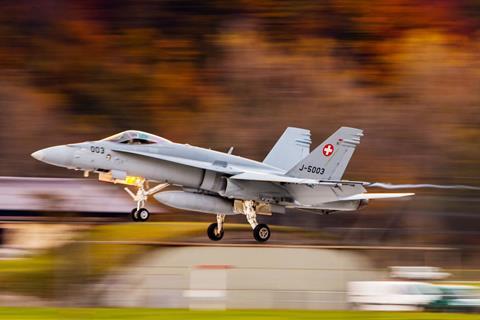 "This proposed sale will support the foreign policy and national security of the United States by helping to improve the security of a friendly European nation that continues to be an important force for political stability and economic progress in Europe," says the US Defense Security Cooperation Agency.
Switzerland intends to replace its air force's existing fleet of 30 F/A-18C/Ds and Northrop F-5 fighters under the Air 2030 programme.
Aside from the Lightning II and Super Hornet, contenders for the requirement include the Dassault Rafale and Eurofighter Typhoon.
In a public referendum held on 27 September, the Swiss electorate narrowly approved the government's plan to acquire the new fighters and ground-based air-defence equipment; just 50.1% voted in favour of the initiative.
Under the Air 2030 programme, Bern will allocate $6.5 billion for the acquisition of 30-40 fighters, plus $2 billion for the ground-based defences.
Bidders have until November to submit their final offers ahead of a likely decision in June 2021; deliveries are anticipated from 2025.
An earlier deal to buy 22 Saab Gripens to replace only the F-5 fleet was rejected by voters in 2014.