Poland has signed a contract to buy Lockheed Martin AGM-114 Hellfire air-to-surface missiles, defence minister Mariusz Blaszczak announced on 30 May. The deal was finalised between the armament agency of Poland's Ministry of National Defence (MND) and the US Army.
In March 2023 the US Department of State approved a possible $150 million Foreign Military Sales deal to supply Warsaw with 800 AGM-114R2 Hellfires, plus training rounds, related equipment and technical assistance.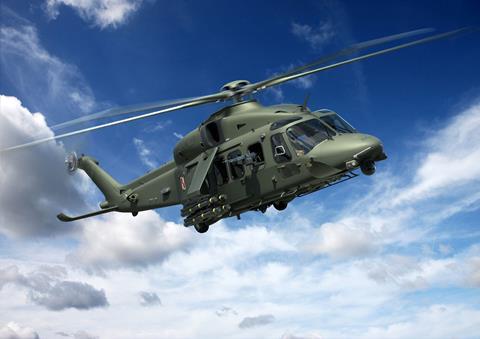 Deliveries of the weapons will start this year and run until 2029. The MND says 70% of the missiles – some 560 rounds – will have been transferred by mid-2026.
Hellfire integration with the Leonardo Helicopters AW149 will occur this year. Poland ordered 32 of the multi-role medium-twin type last year, with deliveries from Leonardo's PZL-Swidnik subsidiary to run between late this year and 2029. The rotorcraft will equip the 25th Air Cavalry Brigade, headquartered in Tomaszow Mazowiecki.
Ultimately the Hellfire will also be an armament for the Polish Land Forces' future fleet of 96 Boeing AH-64E Apache attack helicopters, which are expected to equip six squadrons.
On 5 May, Blaszczak met with US defense secretary Lloyd Austin in Washington DC, to discuss topics including Polish-US military cooperation and deepening military interoperability.
"We have received assurances that the US Army will provide us with [gap-filler] Apache helicopters from its own stocks, even before the signing of the contract for the purchase of 96 AH-64 helicopters for the Polish armed forces," Blaszczak says.
"We have an agreement on eight AH-64s [of undisclosed model]. They will arrive in Poland when Polish pilots and technicians have been trained. I will say cautiously that we are unlikely to complete the training this year, but we will start training as soon as possible."
Boeing Defense & Space says that concluding the 96-unit deal with Warsaw will contribute to safeguarding manufacturing of the AH-64E in Mesa, Arizona until 2030.