Raytheon's X-Net communication system has received a Type-1 certification, the highest encryption rating from the US National Security Agency (NSA).
The X-Net data link communications system was designed for integration into small munitions, Raytheon said on 25 May.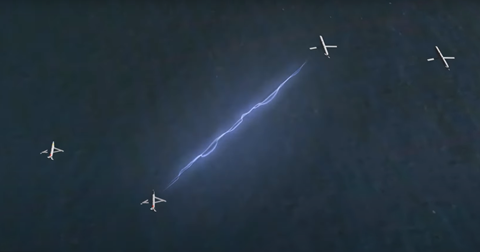 The certification of X-Net comes as the US Air Force (USAF) is looking at networking munitions, unmanned air vehicles (UAVs) and aircraft. The service, in coordination with the US Army and US Navy, is pursuing several different battlefield networking technologies. The US Department of Defense wants to use communications networks to help its forces fight in close coordination, at a tempo that would overwhelm adversaries.
In February, the US Air Force Research Laboratory's Golden Horde collaborative munitions programme successfully demonstrated four connected glide bombs hitting four targets simultaneously. Golden Horde intends to develop and demonstrate a system that allows munitions to exchange information and autonomously swarm targets. Other likely candidates for Golden Horde include powered glide bombs, cruise missiles and loitering munitions.
Raytheon did not specifically mention Golden Horde, but described a similar mission, connecting air and ground platforms.
"Military operators need the ability to redirect or unarm airborne-launched munitions in mid-flight using in-flight target updates over a secure data link," the company says. "X-Net supports this mission requirement by providing robust, secure data communications for effectors in contested or harsh radio frequency environments."
A system that achieves a Type-1 certification from the NSA is approved "for encrypting and decrypting classified and sensitive national security information", according to the Office of the Director of National Intelligence. These systems are "developed using established NSA business processes and containing NSA-approved algorithms. [Such equipment is] used to protect systems requiring the most stringent protection mechanisms".