Airbus's proposed A350 freighter will be slightly shorter than the A350-1000, with five frames being removed from the basic structure, and the twinjet will be fitted with an aft main cargo door.
Chief commercial officer Christian Scherer disclosed the basic configuration to FlightGlobal during a 13 November forecast briefing. The aircraft is being designed to be "optimised" for pallet loading, he states.
Airbus chief executive Guillaume Faury previously told FlightGlobal that the configuration had been frozen, but the airframer has yet to unveil any customers.
The manufacturer is pitching the twinjet against the Boeing 777F – aiming to produce a competitor with at least 3t additional payload and 11% more volume – but also the 747 freighter, claiming it will offer the same volume as the older four-engined type.
It will have 30t lighter operating weight empty, compared with its nearest rival, the capability to load both decks simultaneously, and Airbus says there will be "no tail-tipping".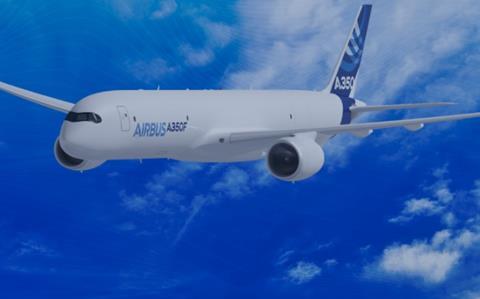 Airbus believes the aircraft will be the only freighter capable of meeting new ICAO emissions requirements from 2028. It will have 40% lower fuel-burn than a 747F.
Powered by Rolls-Royce Trent XWB engines, the aircraft will have 99% airframe compatibility – and full engine compatibility – with the passenger A350, and share its type rating.
Airbus will "strategically embed" production of the freighter into its A350 programme, to "ensure a smooth launch, entry into service, and ramp-up", it says.
Scherer is confident that the A350 freighter will be successful, and that the airframer will not repeat the strategic error in developing its previous widebody freighter – the A330-200F – of which Airbus has sold only 38.
He acknowledges he was "part of the crime", but says the crucial miscalculation was believing that customers would value the range of the aircraft over its heavy-freight capability.
As a result, he says, the airframer chose to base its A330 freighter on the longer-range -200 passenger aircraft rather than the larger -300.
Scherer says the A330-300 would have enabled the company to offer an aircraft with higher payload volume. The -300, with a range of 3,660nm, has subsequently attracted the interest of customers as a passenger-to-freighter conversion, which Airbus offers through its EFW joint venture.