Almost 50 years since he became the youngest of the moonwalkers, Apollo 16 lunar module pilot Charlie Duke would be willing to return to space as an octogenarian.
"I'd do something like [Blue Origin] or SpaceX," he says in the Southern drawl familiar to anyone who heard Duke speaking to the Apollo 11 crew from mission control – "You got a bunch of guys about to turn blue, we're breathing again" – seconds after Neil Armstrong's dicey landmark touchdown.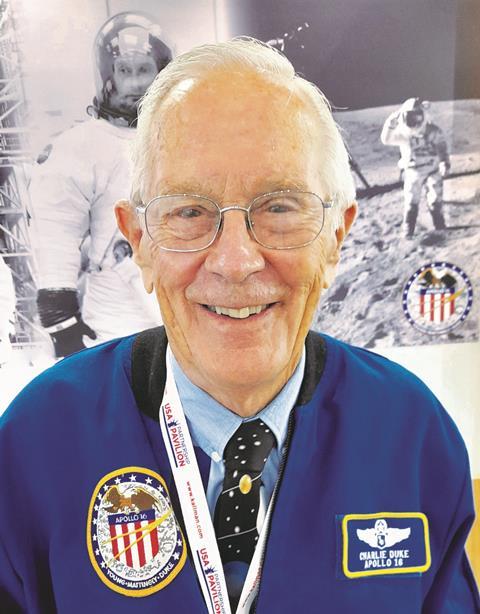 "I wouldn't want to go to the space station for a year. But I'd like to go back again."
Duke is unhesitating as to whether returning to the Moon is important.
"Yeah," he says. "The new technology we've got, we can build a moonbase up there that's a tremendous platform for basic science, mostly in the geophysical realm. [There's] a lot of resources on the Moon. Maybe we could learn how to mine those and bring them back in a reasonable way.
"And then we can learn how to operate for long durations on another body. Whether that's going to be important for Mars, I don't know – Mars is an order of magnitude harder than the Moon."
He says the argument over whether spaceflight is worth the cost is as old as his 1972 mission. "It was basically, 'Why are we spending so much money on the Moon?'
"We didn't spend a nickel on the Moon," he says. "It was all spent on Earth. There were 400,000 good-paying jobs in the Apollo programme. To support [those] you had to have grocery stores, laundry, gas stations."
He says much of modern technology, now taken for granted, is "rooted in the space programme". "It was a good investment for our country and economy."
Duke admits he had reservations about private spaceflight. But no more. "I'm all for it. I've changed my mind. When it first started, I thought it was a waste of time and money. But that changed real quickly for me. Because I see the advantage of small companies doing big work. They can make decisions real quick. They have low overheads, they are making good gear, some good programmes.
"I think it's going to end up revolutionising space tourism, and a lot of people will want to do that."
Even before his own lunar exploration, Duke altered spaceflight history by catching rubella, exposing astronaut Ken Mattingly, and forcing a change of crew for Apollo 13 – the mission famously aborted after an in-flight explosion.
"I didn't know I had never had the measles," says Duke. "It put me to bed for a week – measles for adults isn't an easy thing to get over."
Duke credits the engineering skills of Mattingly's replacement, Jack Swigert, with playing a crucial role in the successful and ingenious rescue of Apollo 13.
"He had more knowledge of that spacecraft than anybody else in the [astronaut corps]," he says. "He knew his job."
Duke was appearing at the Dubai air show supporting Kallman Worldwide's Endeavour Scholarship scheme, which sends students and teachers – including a group from the United Arab Emirates – for a week's hands-on astronaut training at Space Camp in Alabama.
He is continuing the work of his late test pilot classmate, and Apollo 15 astronaut, Al Worden.