Central European budget carrier Wizz Air could further increase its Airbus A321neo commitment next year, having taken options and rights on a further 94 jets, on top of the 102 ordered as part of the Indigo Partners deal.
Wizz Air is to take delivery of most of the newly-ordered 75 A321neos and 27 A321XLRs – part of the Indigo agreement for 255 jets unveiled on 14 November – over the course of 2025-27.
But it states that "under certain circumstances" the budget airline could obtain another 19 A321neos, while Airbus has also granted purchase rights on 75 more.
Conversion of the A320neo rights to a firm order – which would cover deliveries over 2028-29 – would have to be completed by the end of 2022.
The airline will have the freedom to modify the agreement to switch to the smaller A320neo or the long-range A321XLR if required.
Wizz Air shareholders still have to approve the fleet order.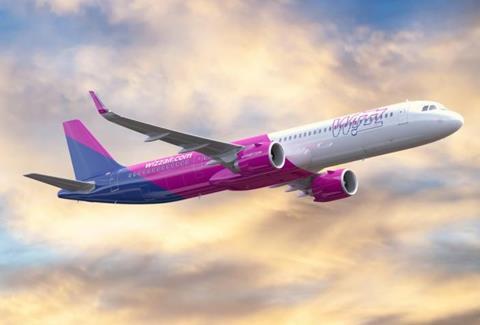 The airline has lifted its firm backlog to 254 A321neos, 47 A321XLRs and 34 A320neos as a result of the deal, which will advance the carrier's strategic 'Wizz 500' fleet plan.
"Despite strong demand for the aircraft, we have signed very attractive terms with Airbus for the long-term supply of more aircraft until the end of the decade," says Wizz Air chief Jozsef Varadi.
He says the airline will have an "unassailable position" regarding sustainability.
Prior to the show, Wizz had indicated plans to have 170 aircraft operational by the end of the first half of 2022-23, increasing to over 200 at the end of fiscal 2023-24 – a year in which its initial A321XLRs would arrive.
Indigo Partner carriers – which include Frontier Airlines, JetSmart and Volaris, alongside Wizz – have ordered a total of 1,145 Airbus single-aisle jets.
Managing partner Bill Franke says the 255-aircraft order unveiled at the Dubai air show will "raffirm" its carriers' commitment to "consistent growth through the next decade".