Cirrus may be one of the most successful brands in general aviation, with 528 aircraft delivered in 2021 and that total set to rise this year. However, chief executive Zean Nielsen is cautious about jumping too quickly into business aviation, despite a presence at this year's EBACE where it has an SR22 piston-single and single-engine SF50 G2 Vision Jet on static display.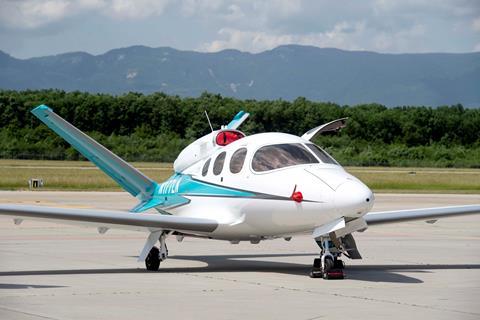 "Our planes are built for a retail consumer," says Nielsen, who took the reins at the Chinese-owned airframer three years ago. "We have recently put wi-fi on the jet, for instance. But there are a couple more product adaptations we want to make before we really get into this market. When we do get there we have very bullish expectations."
The former Tesla executive is also conscious that for Cirrus to be a significant player in the corporate and air taxi segments, it needs to invest in its service network. Catering largely to owner-flyers is a different proposition to supporting operations flying several dozen hours a week. "Before we dive head first into these markets, we want to make sure all the infrastructure is in place," he says.
There is perhaps another reason Nielsen is not pursuing the business sector too aggressively. He does not need to, for now at least. Cirrus deliveries have been rising for years – they dipped slightly in 2020 only because of a six-week shutdown to introduce Covid-safe protocols. "Demand continues to be strong. We don't have a demand issue. We have a capacity issue," he says.
All that is not to say that Cirrus does not have a significant Part 135 presence already. One of its newest customers is Florida air taxi start-up Verijet, which took delivery of its first Vision Jet in September 2020 and now operates a fleet of 17 with more on order. The company operates in the South Eastern and Western USA and is planning an expansion to the Caribbean.
Despite the failure of the nascent jet-based air taxi market – championed by the likes of Eclipse Aerospace and DayJet – in the 2000s, Nielsen believes the seven-seat Vision Jet could play a role in resurrecting the segment, as its performance makes it perfect for 500nm (926km) flights that are costlier in larger jets and will be out of the reach of electric vertical take-off and landing platforms.
Cirrus is represented in Europe by five sales agents and a network of authorised training and service centres, although the company has just opened its own sales office in Valenciennes, France, and will establish a regional operations office in Rotterdam, the Netherlands in June.
It comes as Nielsen looks to increase Europe's share of Cirrus deliveries to 20-30%.
The region accounted for 43 SR types and 11 Vision Jets in 2021, a more than 40% increase on the 2020 total, but only roughly a tenth of the 528 aircraft Cirrus shipped globally. "Europe is a very good market for us, but it could be a lot better," says Nielsen. He puts this down to a lack of infrastructure, more expensive fuel and insurance, and less of a GA culture.
"We have 5,000 small airports in the US where fuel is readily available," says Nielsen, who is himself Danish. "In Europe it's just more expensive to own an airplane. There are a lot of airports you can't land in after dark. But the potential, wealth and desire are all there. We want to help create that environment where owning an aircraft is more accessible."
Expanding Cirrus's "addressable market" is core to his philosophy. Despite Cirrus's growth over the past 25 years, the pool of private pilots is finite.
Rather than compete against other manufacturers, his aim is to increase the number of pilots by making training and flying simpler and more fun. "Most training dates from a different generation of aircraft. The whole syllabus needs to change," he says.
To help with this, Cirrus has in the past year set up its own flight schools, in Tennessee, Arizona, Texas and Florida, as a way of enticing would-be aviators into the brand. It has already had considerable success in expanding the market. According to Nielsen, almost four in 10 Vision Jet orders are from owners who have never owned an aircraft.
Another new initiative – aimed at attracting would-be pilots who want to own an aircraft but have not obtained their licence – is "concierge service" VisionAir, so far available in and around Duluth, Knoxville, and Dallas. Cirrus manages the aircraft and flies to the customer's nearest airport when required. The owner can relax in the back, sit next to the pilot, or fly the aircraft under instruction.
In July last year, Cirrus unveiled the latest version of its Vision jet, the G2+, which comes with Gogo in-flight wi-fi and an improved version of the Williams International FJ33-5A engine. It also features Safe Return, Cirrus's version of the Garmin Autoland emergency self-landing system that won last year's prestigious Collier Trophy.
Safe Return, combined with the parachute system that is fitted to every Cirrus aircraft, allowing it to descend slowly in the event of an engine failure or pilot incapacitation, is "hugely important" to Cirrus's reputation for safety, says Nielsen. "The spouse factor is also key," he notes. "Knowing that these features are on the aircraft plays a huge role in reducing any anxiety felt by loved ones."
That 'insurance policy', which works so well in the owner-flyer segment, could be just as applicable to air taxi charter and other parts of the traditional business aviation market.