Daher says the EcoPulse hybrid-electric demonstrator aircraft it is developing alongside Airbus and Safran will take to the air from its Tarbes base by the end of this year, beginning an 18-24-month test programme that will consist of about 100 flights.
Although Daher is not being asked by customers for a hybrid-electric product, the firm is convinced innovative technology to drive sustainable propulsion solutions will be essential for its future TBM range, says Nicolas Chabbert, senior vice-president of the firm's aircraft division. "We have to define our own path," he adds.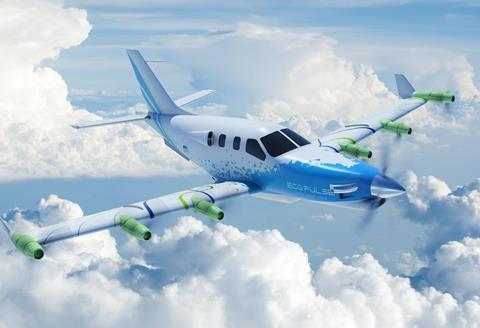 The EcoPulse is being developed with support from France's CORAC civil aviation research council. It is based on a TBM 900-series turboprop with the Pratt & Whitney Canada PT6 engine augmented by six wing-mounted propellers each driven by a Safran-supplied 50kW electric motor.
Chabbert stresses that EcoPulse is a demonstrator designed to provide "key learnings" on how to manage a high-voltage electrical system in an aircraft.
However, while Daher will not reveal any timelines, the intention is to bring new technology like this into its product range. "We will bring sustainability answers to the market as soon as possible," he says.
The addition of Stuart Aerostructures, acquired from Triumph Group in February, gives Daher a good balance between its aerostructures work for Airbus and Boeing and, when the deal closes in July, will make the important North America market its second largest in revenue terms after France, Daher chief executive Didier Kayat says.
The French, family-owned business will continue to seek strategic and opportunistic acquisitions, with the gap now more in the services side of its operation. "We get two to three offers per week," says Kayat.