Dassault has announced a six-month delay to the service entry of the Falcon 6X, to mid-2023, blaming the ongoing effects on the supply chain of Covid-19 and the Ukraine crisis.
"I'd like to stress that the Covid epidemic is still active – fortunately not at the crisis levels we knew before, but strong enough to disrupt business," says chief executive Eric Trappier.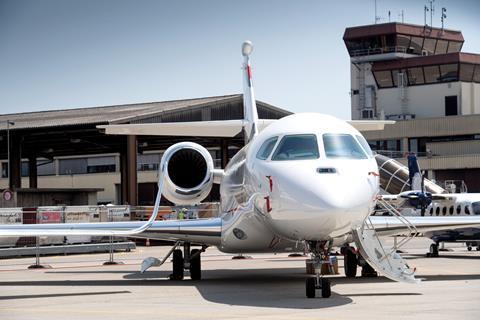 He notes that "the fast recovery with limited resources of the global economy is creating unprecedented constraints on the supply chain, not only in our industry but across the entire manufacturing sector".
In addition, the war in Ukraine is "adding its own part of disruption" with rising energy prices, and raw material shortages.
As a consequence, "our anticipated target of year-end 2022 for the entry into service of the 6X is shifting, and is now forecast by mid-year 2023", he says.
The super-large 5,500nm (10,175km)-range Falcon 6X was launched in 2018, following the company's cancellation of the troubled 5X programme. To date, three aircraft in the test fleet have logged over 850 flying hours.
Nonetheless, Dassault brought a Falcon 6X to EBACE, parking the fourth test aircraft (F-WZOA) on the static display. Fitted with a fully outfitted cabin, the twinjet is scheduled to embark on a global 40-stop "proving campaign" in June, to ensure the reliability of the aircraft and onboard systems in "real world operating conditions".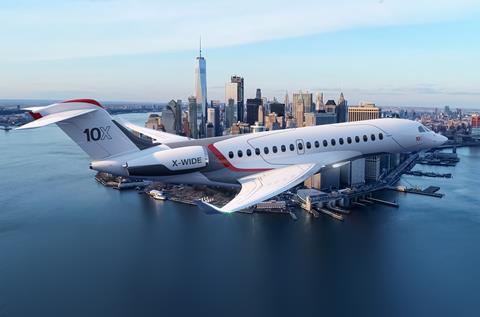 Completed flight-test activities include cold-soak tests and high-elevation tests, and the flight envelope has been expanded well beyond the aircraft's Mach 0.90 maximum operating speed. The flight trials remaining include natural icing and contaminated runway tests, says Dassault.
Meanwhile, production and assembly of the top-of-the-range Falcon 10X is gearing up at sites around Europe and North America, with final assembly of the ultra-widebody twin set to begin next year.
A new production hall at Dassault's Biarritz plant in southwest France is dedicated to the Rolls-Royce Pearl 10X-powered aircraft's all-composite wing. The initial example is in final assembly and will be placed in a static test rig in the third quarter.
"We are making excellent progress in getting this new aircraft into production, and the coming months will see an increasing flow of parts, subsystems and large structures into our facilities in the south of France," says Trappier.
With a cabin height of 2.07m (6ft 8in) and a volume of 79cu m (2,780cu ft), the 10X – which is being displayed in mock-up on Dassault's stand – will have the largest cabin of any traditional business jet.
Dassault has not disclosed when the 7,500nm (13,900km)-range 10X will make its maiden sortie, but it is confident the aircraft will enter service as scheduled in 2025.