Russia's invasion of Ukraine prompted outrage across the world and a slew of sanctions designed to weaken the country's war economy as well as a cabal of influential oligarchs seen as supporters and enablers of President Vladimir Putin's regime.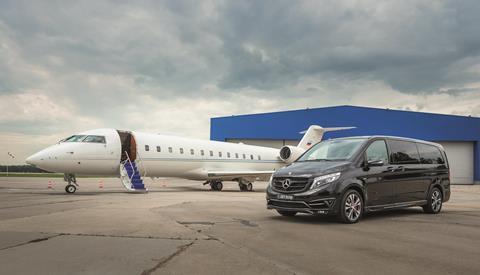 The measures have seen an almost complete sealing off of Russian aviation – commercial and private – with manufacturers stopping the sale and supply of aircraft and components, as well as bans on Russian-registered aircraft and those known to be used by the elite from entering the airspace of or landing in many countries.
Until a decade or so ago, Russia was seen as one of the great emerging markets for both commercial and business aviation, alongside the likes of China, Brazil and parts of Southeast Asia. The ostracisation of Moscow will certainly have an effect on the ability of oligarchs to travel the world for business and pleasure – although many popular destinations such as Turkey and Dubai remain open to them. However, sanctions will also impact the industry, although how much is open to debate.
While describing Putin's actions as "deplorable" and something that will have an impact on the global economy, the General Aviation Manufacturers Association (GAMA) says damage to the business aviation industry is "limited at present" due to the relatively small Russian market. However, it concedes that "the secondary impacts of the sanctions are still developing, and it is something we are watching closely".
For now, GAMA says OEMs are managing scheduled deliveries "on a case-by-case basis to ensure complete adherence to the guidance being provided about the implementation of the sanctions within each jurisdiction, including by aviation regulators".
Traditionally, the Russian market accounts for around 2% of new aircraft sales each year, according to Daniel Hall, senior valuation consultant with data analytics firm Cirium. "While this is a valuable sector for the airframers – particularly the makers of high-end jets such as Airbus, Boeing, Bombardier, Dassault and Gulfstream – these sales are absorbed now thanks to the huge demand for business aircraft from international markets, particularly the USA," he says.
Hall's view is echoed by business aviation analyst Rolland Vincent. "The hot market is providing alternate demand for aircraft that were lined up to deliver to Russia," he says. In fact, he notes that manufacturers can sometimes benefit from a legal ban on selling aircraft to sanctioned customers.
"It is very welcome for OEMs given pressures to show revenues and earnings growth and today's stronger pricing environment – the same plane gets sold twice, and the second sale is at a higher price, although returning the deposit to the Russian customer is problematic," he says.
There is also a challenge with redirecting jets destined for Russia that have already begun a completion process. "The larger the aircraft the bigger the challenge in redesigning the interior," says Vincent. "Customers in this part of the world tend to fit their aircraft to a very high specification."
The sanctions have made it impossible to service, support or even operate any aircraft with links to a Russian entity anywhere in the world.
According to Cirium there are around 120 business aircraft registered in Russia, but Hall puts the total of Russian-owned and operated models worldwide at over 400 – around 2% of the active global fleet and 5% of the inventory of super-midsize to ultra-long-range jets. These aircraft are largely found on the registers of Austria, Germany, Isle of Man, Luxembourg, Malta and San Marino and managed and operated by companies in more than 30 countries.
"Collateral damage around the OEMs includes such things as local sales agents and customer service representatives, approved repair stations, parts warehouses, and other OEM-sponsored support networks," says aviation consultant Brian Foley.
With Canadian, US and European airspace now closed to any Russian registered aircraft or non-Russian registered aircraft owned, chartered or otherwise controlled by a Russian legal or natural person, many owners and operators are focusing on non-sanctioned markets – notably the UAE. However, in the absence of OEM support, the continued operation of these aircraft remains in doubt.
"I imagine there is already a healthy secondary market that has emerged inside Russia with respect to parts and – to a lesser extent – services," says Vincent. "However, aircraft already in-market cannot go too long without parts and technical support."
In general, if aircraft are not maintained or preserved, they will become non-airworthy. "Some probably have already," he suggests, and this will hit residual values. "Who is managing the maintenance log books? I don't know a broker who will go near one of these aircraft today – and that effect will linger on even if this war goes away soon," says Vincent.
For the European Business Aviation Association (EBAA), the absence of support and maintenance oversight on these sanctioned jets in a major concern. "If aircraft are not kept in an airworthy condition, the consequences are stark from a safety point-of-view," says EBAA chief operations officer Robert Baltus.
He believes a handful of Russian-owned aircraft have been sanctioned and grounded in Europe alone to date. This includes a Bombardier Global 6500 believed to be used by Russian energy industry executive Eugene Shrivdler.
The Luxembourg-registered aircraft (LX-FLY) – operated by European management and charter company Global Jet Luxembourg – landed at Farnborough Airport near London on 4 March, after a flight from New York.
The long-range jet's arrival came just a few hours after the UK government introduced new legislation making it a criminal offence to handle any aircraft that has any connection to Russia through registration or ownership, or even if chartered.
Describing aviation-related sanctions (including NOTAMS) as a legitimate tool "in the fight against the Russian invasion", the UK transport secretary Grant Shapps said the new legislation had been necessary to close loopholes that could have allowed aircraft under different national registrations to evade existing controls.
These restrictions – largely mirrored throughout Europe and North America – included a rule that all aircraft seized must be grounded with immediate effect. This order was greeted with consternation by the industry, Baltus says.
"It was a knee-jerk reaction to the crisis and the consequences were not thought through," he suggests. "Leaving an aircraft untouched and exposed to the elements is unsafe, pointless and serves no purpose."
The EBAA along with other concerned industry groups secured permission from the European Commission and UK government to allow seized aircraft to be stored under a protection plan to keep them safe, free from corrosion and their engines turned as necessary," says Baltus. "It is a small concession, but an important one."
Aviation lawyer Aoife O'Sullivan agrees that knee-jerk legal actions by governments can end up having undesired effects. "Aviation is incredibly complicated, it's not like freezing a bank account," she says. "The asset needs to be looked after or it can be dangerous."
O'Sullivan suggests that the far-reaching nature of the sanctions and NOTAMS – sweeping up all Russian nationals whatever their links to the regime – and the harsh penalties imposed on the rule breakers make "this is a scary time for aviation lawyers".
She adds: "There is no grey area with these sanctions, no go-arounds and no tolerance of smart-arses. It is a criminal offence to breach the rules and ignorance of the law is no excuse. Perhaps not surprising some lawyers are not willing to give sanctions advice."
For many, the wide-ranging nature of the sanctions unfairly penalise Russians who have little or no connection with the country in general or the Putin regime in particular.
"This one size fit all approach is simply wrong," maintains Steve Varsano, founder and chief executive of London-based high-end business aircraft brokerage and showroom, The Jet Business. "Many of the people affected are not on the sanctions list but are swept up in the legislation simply by being a Russian national or having a Russian passport," he adds. "Although the market for used aircraft is really hot right now, we cannot trade with these potential buyers. The sanctions are clear cut."
Varsano's views are endorsed by Paul Jebely, global head of asset finance for London-headquartered law firm Withersworldwide.
"I am uncomfortable and indeed unhappy using the blanket descriptor 'Russian nationals' because I believe that key to justice anywhere and in any context is always individualisation not generalisation. But the reality of sanctions regimes is that they are incredibly generalised in nature, which arguably violate the due process and other rights of some wealthy Russian nationals," he notes.
That said, these regulations are fixed and immoveable, he concedes, "so professionals in this industry should be under no delusion that things will return to normal anytime soon".
Of course, the sanctions are not one-sided. Russia in retaliation introduced harsh restrictions on NATO and EU members and has closed its vast airspace to all aircraft registered in these countries.
"This has impacted operators with clients based in Russia or with a Russian connection," says Glenn Hogben, chief executive of the Air Charter Association. But thankfully, he concedes, these restrictions have come at a time when demand is extremely high for private aviation and capacity is extremely limited, "so the majority of affected operators have been able to re-deploy their aircraft on other routes".
Typically, Russia accounts for a small percentage of global traffic, says Hogben. IATA data from 2021 shows the country accounted for 1.3% of global movements, while international air traffic to and from Russia accounted for 5.7% of total European traffic. "The closure of this airspace has therefore had a relatively small impact on business aircraft operators overall," he says.
The shuttering of Russian airspace is however causing a headache for some western operators, notably on flights linking Europe and North America to Asia.
"These routings all create further issues in terms of added time, increased fuel costs, limited divert options and additional conflict zone risks [such as Afghanistan]," says Matthew Borie, chief intelligence officer and co-founder of aviation risk assessment company Osprey Flight Solutions.
Polar routes from western Europe are being used by some operators to avoid Russian airspace. "As a result of the increased time and distance, some routings to Asia may require a fuel stop at an airport such as Anchorage in Alaska, reminiscent of Cold War-era flights when the airspace over the Soviet Union was closed," he says. The current Russian airspace ban also mean diversion options are limited.
"Flights from London to Singapore, Tokyo and Shanghai for example are each longer in distance and time. This creates increased fuel costs, crew rest complexities [on commercial flights] and additional aircraft maintenance requirements," Borie notes.
While the conflict shows no signs of ending, Foley puts things in perspective for the business aviation industry. "This too shall pass. Business aviation has been through so many trials and tribulations over the years that this is just another day at the office," he says.
The outlook for the Russian business aviation market, however, is grim.
"Regretfully, this is the end of the peace dividend in private aviation as it involves Russia and Russian nationals for years to come," says Jebely.
He notes that while the country's private aviation market from an international perspective is "not quite dead", since aircraft have continued to operate domestically and within certain narrow flight corridors such as Russia to the UAE, "it is firmly on death's doorste