Russian airframer VASO has completed the first engine pylons for the Irkut MC-21 intended for installation of Aviadvigatel PD-14 powerplants.
The Voronezh-based manufacturer says the latest assemblies bring the total number of pylon sets to 12.
While MC-21s so far assembled have all comprised Pratt & Whitney PW1400G-powered airframes, Irkut is manufacturing the first with the Russian-built PD-14 engine.
"Our plant had the task of completing the final assembly of [PD-14] pylons by the end of January, and it was achieved in full," says VASO acting managing director Alexander Yarchevsky.
"We've built PD-14 pylons for the MC-21 for the first time."
Yarchevsky says the pylons are "complex" but nearly all the components – including the fuel and hydraulic systems, fire-protection equipment, and air conditioning parts – are manufactured in the company's facilities.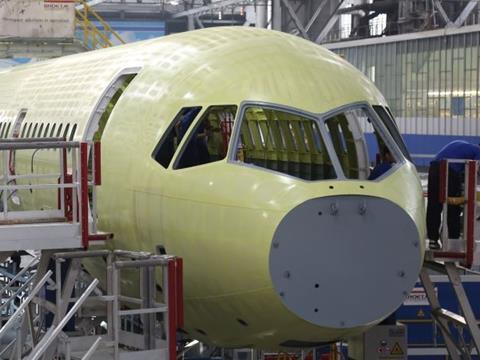 Upon completion of acceptance, the pylons will be transferred to the Irkut assembly line. The first PD-14-powered aircraft is undergoing wing and fuselage mating.
VASO also supplies fairings and other components for the PD-14 engine nacelles which have already been shipped to the facility in Irkutsk.
Yarchevsky says another three sets of pylons for the MC-21 are scheduled to be manufactured this year. VASO is producing up to 12% of the components for the twinjet, including composite hatches, flap fairings, wing-fuselage fairings, and parts for the horizontal stabiliser and vertical fin.