Russian airframer Irkut has received the first Aviadvigatel PD-14 engines for the MC-21 at its assembly line in Irkutsk.
The domestically-built engines, manufactured in Perm, have been transported by road over a distance of nearly 4,000km according to United Engine Corporation.
Upon arrival at the assembly line earlier this month they were transferred to a podding facility for checks, to ensure they were not affected by vibration, before being prepared for nacelle and thrust-reverser installation.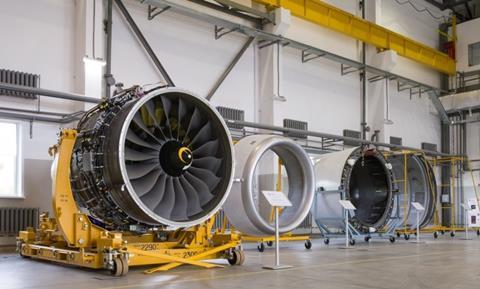 The engines will be fitted to a flight-test MC-21-300 to join four other MC-21s – all powered by the rival Pratt & Whitney PW1400G – which are participating in the certification campaign.
Special technical teams have been assembled by the engine's designer and manufacturer to ensure a rapid response to any maintenance demands when the testing commences.
The PD-14 will be installed on the MC-21's pylons before an array of instrumentation is fitted to monitor performance of the powerplant.
Ground testing with then follow before the maiden flight of the initial aircraft which, says Perm Motors, is expected to take place shortly.