Russian researchers are exploring the use of laminar flow to improve the aerodynamic efficiency of nacelles for the planned Aviadvigatel PD-35 engine.
The PD-35 is a higher-thrust evolution of the PD-14 – the powerplant for the Irkut MC-21 – and intended for the proposed Russian-Chinese long-haul CRAIC CR929 twinjet.
Aviadvigatel is jointly working with Moscow's Central Aerohydrodynamic Institute, and other organisations, to design a laminar engine nacelle demonstrator for flight tests.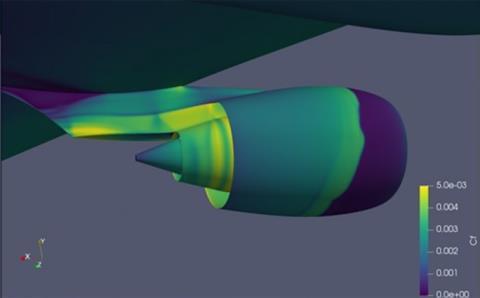 The project aims to optimise the nacelle contours and the interface with the pylon for various operational areas of the flight envelope, including cruise, crosswind, and high angles of attack.
"It takes into account all the significant factors influencing the position of the laminar-turbulent boundary-layer transition on the nacelle, as well as the effect of the airframe and engine," the institute says.
Researchers at the institute are analysing the aerodynamic characteristics of the aircraft and the laminar nacelle with specially-developed software.
The institute says the nacelle is predicted to reduce air resistance by around 2%, with a corresponding reduction in fuel consumption.
"[This will be] a significant advantage in the development of an aircraft in the long-haul category," says the institute's head of powerplant aerodynamics Alexander Lysenkov.