Rolls-Royce and Shell are to deepen their collaboration on sustainable aviation fuel (SAF) as the pair look to accelerate decarbonisation efforts.
The agreement – formalised by a 30 June memorandum of understanding – includes a commitment to work together to demonstrate the use of 100% SAF in Rolls-Royce engines.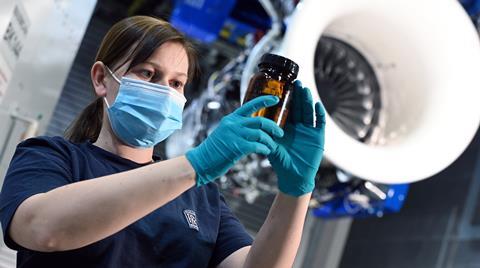 Under that pact, the partners will "explore opportunities to help progress the use of 100% SAF towards certification". That will build on Rolls-Royce's ongoing testing programme using the fuel. At present, only blends of up to 50% SAF are approved.
Rolls-Royce will additionally provide technical expertise to Shell on the development of new fuels.
"Being from different parts of the aviation value chain means Rolls-Royce and Shell bring complementary expertise, experiences and ideas to the table," says Anna Mascolo, president, Shell Aviation.
"Wide-ranging cooperation can drive new solutions that will help the aviation industry and our customers navigate a pathway to net zero."
In addition, the pact paves the way for the two companies to work together "to proactively engage industry bodies" on policy issues and to "address existing barriers" to aviation's decarbonisation.
The pair have previously collaborated on a number of initiatives, with Shell the exclusive SAF supplier for the engine manufacturer's SAFinity programme for business aviation.